Valerian and the City of a Thousand Planets
(2017)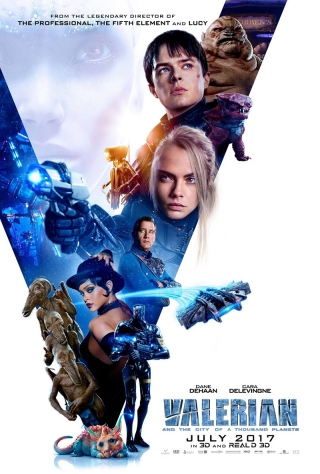 I had been given the erroneous impression that writer/director Luc Besson simply thrusts the audience into Valerian and the City of a Thousand Planets with little or no context to help establish the coming action.
Not so.
To the hauntingly familiar notes of David Bowie's 'Space Oddity' we see the space station Alpha in 1975 orbiting the earth as different races from the home planet greet each other.  As a leisurely credits sequence begins, first decades and then centuries pass while more and more alien races join them, eventually turning the whole into an enormous City of a Thousand Planets, where 30 million sentient beings of every shape and hue share their cultures and accumulated knowledge.
It is that cozy, comforting and highly improbable Star Trek-type view of a benevolent future that it would be nice to imagine happening.  Nice; just not, as this old pessimist says, very likely.
Now in the 28th century we move to a gorgeous planet where a humanoid species lives in perfect harmony with their natural world.  It's the kind of place that you would be more than happy to wake up in.  And you are going to find yourself being irresistibly reminded of the Pandorans from James Cameron's Avatar.
There's a lot of that in this film.  Yes, it seems derivative; but I knew nothing at all of the French comic book series that Besson has been a life-long fan of and was surprised to learn that it's been going since the 60s.  So for all I know at least some of what we're seeing may in fact be original.
Following that glorious first twenty or so minutes we really are plunged into the thick of things.  After we're introduced to special forces agents Valerian (Dale DeHaan) and Laureline (Cara Delevingne) we go speeding through a true Space Opera romp at stellar speed.
The two main characters are absurdly young looking for the positions they hold, yet this is pretty much in keeping with the enjoyable goofiness of the whole concept.  A bit more problematic is some of their dialogue, which appears to have been written by a man with a tin ear.  The intention is probably to try to recreate those old slapstick comedies of the 30s and 40s (yeah, it really is that kind of film), but I don't think that Tracy and Hepburn would have lost much sleep over this duo.
'Supermodel' Delevingne got quite an unfair pasting for her acting in Suicide Squad, but here the girl does just fine.  In my opinion she has a physique that could really only appeal to 12-year old boys but her face is wonderfully expressive and if anyone grounds the film during its crazier moments (almost everything in it) then it's definitely her.
The plot is really only there to hang a lot of delicious set-pieces on – the other-dimensional 'Big Market' sequence is great — and to allow some bewildered looking actors to wander through (with Clive Owen chewing his way through several pieces of scenery) whilst letting us have all-too brief cameos such as the great Rutger Hauer's two minutes of phoned-in dialogue.
The singer Rihanna also turns up – another 'star' I know little about – and she turns out be quite the scene-stealer.  And Ethan Hawke looks as if he's enjoying himself as Jolly the Pimp.
The audience will enjoy itself too, if it just switches off and lets the images take over.  This is a labour of love from Valerian superfan Besson and the fact that he has just gotten so much on the screen earns him my respect.
It's probably an overworked analogy but Valerian is like candyfloss – nice while you're eating it but without much in the way of nutrition.
The aliens are wonderfully imaginative, with some of them glimpsed just too briefly.  However, I'm sure that there's a nice coffee table book for you to pore over.
Not likely to set the world on fire, but if it's a two-hours-and-twenty minutes afternoon popcorn movie you're after, then you won't go too far wrong.