Metamorphosis and Transformation:
Trust Me & Maleficent
(2014)
I have been told more often than you might imagine that I possess a warped and twisted mind.  Usually, but not always, just before a woman has thrown me out with instructions never to darken her doorstep again.  And no, it's not because they don't understand me but because they understand me all too well.
Still, there's being a bit of a perv and then there's seeing similarities between the strange, distracting Trust Me and the warm, rather lovely fantasy Maleficent.  Maybe it's because I saw them a day apart.
Howard Holloway (Clark Gregg) is a down-on-his-luck Hollywood child talent agent and ex-child actor himself. He finds  a second throw at success after the chance discovery of a singular young talent in the shape of fourteen-year-old Lydia (Saxon Sharbino).  Actually, a fellow agent describes him as 'a pathetic bottom-feeder' which seems a bit harsh considering that Howard is a nice guy, with his heart in the right place and a real will to set right past inadequacies, even at the expense of his own hopes.
This is Hollywood, however, so he's not too likely to run into many nice people during his normal day.  As movie big shot Agnes (Felicity Huffman) tells him:
"I will spend the rest of my life turning your life into a tortuous sea of flaming shit."
Ouch.  That's not going to set you  up for a happy day, is it?
There is a likable support cast here that includes William H.  Macy and Alison Jenney; and it is particularly welcome to see the gorgeous Amanda Peet as Howard's love interest.  We never seem to see enough of this actress.
Clegg not only stars but writes and directs Trust Me.  I've noted it as a 2014 film.  It was actually shown at the 2013 Tribeca Film Festival but didn't get a release until over a year later and I doubt that it will find more than a niche audience, which is a shame because it dares to do something different.
By the way, the references to Kafka throughout may prepare you somewhat for the abrupt change in tone.  Or may not.  Either way, I hope that you give it a look.
__________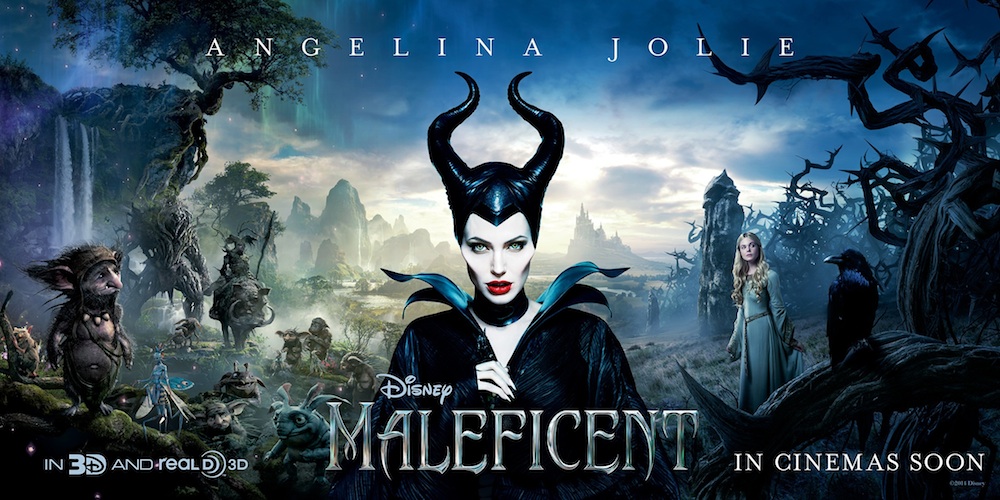 How am I going to follow that odd little film with a star vehicle and utterly charming fairy tale like Maleficent?   Hell, I don't know.  All I do know is that I liked them both—particularly Maleficent, which frankly just knocked me out.
And there is one glaring reason why I shouldn't have liked it and that is because the title character is played by Angelina Jolie, who has a tendency to set my teeth on edge.  So much so that I forget what a damned fine actress she can be (Eastwood's Changeling, anyone?)
This utterly beautiful film tells the famous Disney story of the Sleeping Beauty from the point of view of the Evil Stepmother.  Is this what they call post-modernism?
In any case, we see what made her the unpleasant way that she was in the telling that we know best.  Maleficent has been treated appallingly, there's no two ways about it; and by someone that she cared for deeply.  Her conclusion is the one that I guess a lot of damaged people in the real world would have come to:  that there is no such thing as true love.
She has put the young Aurora under a curse that can't be lifted, but over the years she begins to care for the little human girl, played with great delicacy and likeableness by the marvelous Elle Fanning (so good in We Bought a Zoo and Super 8).
Listen:  in terms of storytelling Maleficent isn't going to shatter any boundaries.  It's just an utterly gorgeous world in which we are invited to spend a couple of hours.  You won't find a jaw-dropping ParaNorman here (although the living, dismembered wings did freak me out a bit) but that's OK.  Sometimes it's just nice to relax back and enjoy something beautiful.
The first time directing job goes to the brilliant special effects and designer Robert Stromberg (Avatar, Alice in Wonderland) and the screenplay is by Disney veteran Linda Woolverton (Beauty and the Beast, the Lion King).
As beautiful as the images themselves, is James Newton Howard's musical score; and—as it often is at the cinema these days—it is worth staying for the credits which close with a version of 'Once Upon a Dream' from Disney's 1959 Sleeping Beauty.
Angelina Jolie chose Lana Del Rey to deliver it and here it is: