"This Clown's Not Funny".  You Can Say That Again:
Stitches
(2012)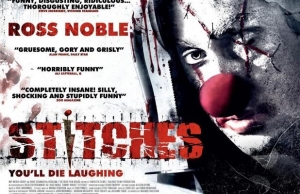 I'm very averse to slagging off any film because of my basic stance that nobody sets out to make a bad one.  But Christ on a stick, it is damned nearly impossible to say anything good about this Irish movie, Stitches, written and directed by Conor McMahon.  For want of a better word (like, maybe, 'abomination') I'll call it a splatter-comedy.  The only thing wrong with that description, however, is that it's not even remotely funny.  It's not scary either…well, maybe if you're one of those weird people who freaks out over clowns.
Just to quickly sum up the witless plot:  Ross Noble plays a sleazebag called Richard Grindle, an entertainer playing the clown circuit at children's parties under the name of Stitches; and doing it in a half-assed way since he'd obviously prefer to be at home screwing his skank of a partner whilst wearing full clown make-up.  He manages to drag himself away from her long enough to be late for the tenth birthday party of Tom (Tommy Knight), a rich kid with the brattiest collection of friends that you ever laid eyes on.  Although on second thoughts, if you live in Ireland you will recognise them as being the same little shits that are dragged out by their swinish parents of a Sunday in order to ruin the afternoon for normal people who are trying to have a drink or a bite to eat.  And by normal people I mean those sensible enough to have spent their lives in a brat-free environment.
The clown isn't funny, the children are horrible and 'tragedy' occurs when Stitches lands face down on a kitchen knife that Tom's brain dead mother has left blade up in the wash rack.
When Tom goes to visit the grave of the dead man he witnesses a bizarre clown ritual (quite good actually, this bit) and one of them tells him in a spooky voice:
"A clown who doesn't finish a party can never rest in peace; and the joke is never funnier the second time around."
Ah yes, words to conjure with; but since this joke has been lame from the start it's a moot point.  In any case cut to six years later where Tom is having a party for his friends once more but this time of the more adult variety.  In true dead clown fashion Stitches picks this night to return on a rampage of vengeance and you can guess the rest.
If you like blood there is gallons of it, although be warned that it's of the now dated-looking eighties gorefest variety but completely without the charm of, say, The Evil Dead or Re-animator. The humorous scenes are totally laugh-free unless you like them of the repulsive kind.  You know, close up of a kid squeezing a spot and cut to an egg landing in a frying pan.  Yeah, that kind of thing.  I laughed until I stopped.  And if you stick around long enough for the outtakes at the end you'll see why the cast and crew all thought this was amusing.
What is this 'fear of clowns' business anyway?  Is it a real phobia or just some sort of made-up one? I mean, I remember being taken to the circus a few times when I was a kid and I always thought the whole clown bit was kind of stupid, really.  You know, grown man in weird suit rides around on a tricycle meant for a three-year-old.  What the fuck is that about?  I'm sorry because I know that I'm maligning a great tradition or something but I just don't get it.  I do admire rodeo clowns, though.  Now that looks bloody dangerous so I'll give them the utmost respect.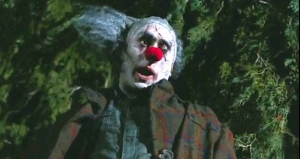 Not Scary.
As to clowns being scary…I don't know, are they?  Pennywise in Stephen King's It was pretty creepy, what with his whole 'We all float down here' spiel.  And if you want to talk about really repulsive characters who wander around in make-up look at that guy in Rob Zombie's The Devil's Rejects.  Now he was bad! And those teeth! Come to think of it I remember an episode of his comedy show where Kelsey Grammer was pretty bloody out there as Dr.  Frasier Crane, dressed up as a clown.
That's it, I've thought about Stitches more than it deserves but I said at the beginning of this that I always try to find something to like.  The graveyard setting was good, there were some nice night-time shots and the closing credits played—blast from the past for me—the great Dublin band 'An Emotional Fish'.  Here they are with 'Celebrate'.