Blood on the Tracks:
The Commuter
(2017)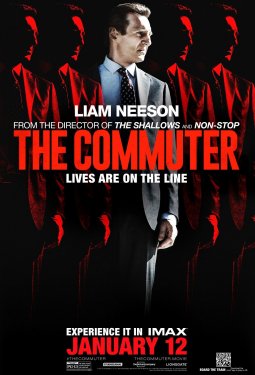 It's not a super hero movie and Liam Neeson isn't playing one – as such.  Still, as Michael MacCauley, he does get to run faster than a speeding locomotive; dodge bullets; and leap mighty rail tracks in a single bound.  And it all happens right here in his latest comedy, The Commuter.
What's that you say?  It's meant to be a thriller?  Well, that's OK too; I can get into that. It is rather thrilling and holds you pretty much throughout.  It's just that it's so deliciously barmy that you'll be laughing just as much as you're gripping your armrests.
Michael is a happily married and clean living family man to wife Karen (Elizabeth McGovern) and son Danny (Dean-Charles Chapman).  We know this because he and Karen nauseatingly wave their wedding rings at each other every time they part and Michael helps his son with his studies by reading every single book that he does, from Lord of the Flies to Grapes of Wrath to Scarlet Letter (and watch out for that last one, it's a doozy).
In fact, Michael is one of the most erudite ex-cops turned insurance salesman in the entire history of ex-cops turned insurance salesman.  And the thing that stops you from getting too cynical at this set-up is that Neeson is just such a naturally, insanely, wonderfully likeable actor.
I loved the opening of this movie as director Jaume Collet-Serra – I went to see it on the strength of last year's excellent The Shallows — presents us with a pretty realistic depiction of a 60-year-old man who has commuted to work every day for ten years, getting to be on nodding terms with his fellow work-a-days, only to find himself suddenly on the scrap heap whilst mortgaged up to the eyeballs.  The fear, incomprehension and numbness that the actor portrays in the first half-hour resonated enormously with me.  Bloody hell, it sure did.
And that's about the last time that the word 'realistic' will be mentioned here.
As he rides his carriage to oblivion Michael is offered a way out of his predicament by a lovely stranger on the train, Joanna (Vera Farmiga).  And from this point forward it is settle back and try not to notice the enormous plot holes, sheer improbabilities and general all-around craziness.
And the extraordinary thing is that The Commuter is almost preternaturally bloody entertaining.  Maybe just not as everyone intended.
You'll PONDER as you try to figure out the role of police chief Captain Dave as he zips merrily around the place, seemingly having inexhaustible powers, up to and over the FBI.  Actor Sam Neil also appears to be wondering just what the hell is going on as he looks perpetually bewildered and attempts to figure out just what exactly is he doing here.
You'll GRIN at the AUDACITY as it rips off one of the most famous sword-and-sandals epics of the 60s for its unintentionally sidesplitting finale.
You'll be AMAZED at how every carriage is stuffed to the gills except when Mike trips over another dead body – and then there's not a passenger around for miles.  And where the hell is a conductor when you need one?
And you'll BE CONCERNED that passengers and crew need to check their hearing as Mad Mike puts people through doors and windows like Schwarzenegger on speed, with not a single soul being in the slightest bit aware that mayhem is going on all around them.
YOU'LL SHAKE YOUR HEAD AS MURDER ON THE ORIENT EXPRESS turns into CARRY ON UP THE RAILTRACK RIGHT BEFORE YOUR DISBELIEVING EYES!
It has three writers on board:  Byron Willinger, Philip de Blasi and Ryan Engle.  Three.  I've no idea why either.
Check your brain at the box office and under no circumstances miss this.  It's my first guilty pleasure of 2018 — and I loved it!