The Chronicles of Conan
Volume 13
Heading North:
Whispering Shadows
And Other Stories
Part 2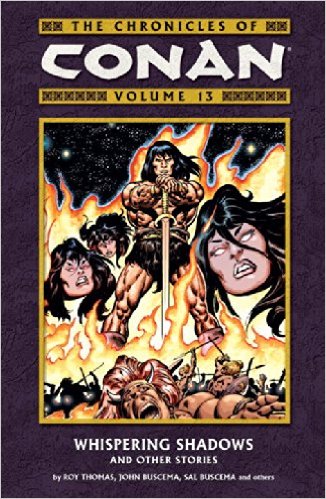 These ongoing pieces are overviews rather than reviews and therefore contain spoilers galore
Robert E. Howard's short story The Vale of Lost Women didn't appear in print until thirty-one years after his death, at which point it was quickly accepted into the official canon of Conan the Cimmerian.  Despite that, it probably remains at worst, one of the most hated of all Conan stories; and at best, a tale which makes a lot of Hyborian Age enthusiasts extremely uncomfortable.
Myself?  I love it!
Told entirely from the point of view of a beautiful young woman, Livia of Ophir, Conan is almost a secondary character.  And through her eyes he is perceived by her to be almost as bad as the savage black tribesmen who have taken her captive. Sexual violence hangs over this piece to an almost claustrophobic extent.  Nor is Conan – at least initially – painted as much of a paragon of virtue.
And why should he be?  Retaining control as war-chief of a Black Kingdoms tribe would undoubtedly have meant a certain level of savagery, which he wasn't short of at the best of times.  So in that regard it is perfectly consistent with the way in which such a man would in all likelihood have behaved.
I really don't quite understand the dislike towards the original story – unless it comes from fans who bought into the whole 'noble barbarian' concept a bit too much for their own good.
However, here we are dealing with Roy Thomas's adaptation, The Vale of Lost Women in the November, 1979 issue (#104) of Conan the Barbarian. So, how does he fare with it?
Well, given the content that he had to produce for a Comics Code approved outing, pretty damned well indeed!
Livia and her brother Theteles are amongst a team of…uh, scientists, who have been given dispensation from the King of Stygia to visit Kheshatta, the City of Magicians. (Which reminds me that we haven't heard for a while from the lovely-but-treacherous Neftha, now King Ctesphon III.)
Captured by the gross and disgusting Bajujh, chief of the Bakalah tribe, she is waiting to be raped by this loathsome creature as soon as he recovers from being paralytic drunk after enjoying watching Theteles being mutilated, butchered and fed to jackals in front of his sister.
She finds herself with a glimmer of hope when she sees the white leader of a rival tribe visiting that worthy to discuss a joint attack on yet another tribe. And her first sight of Conan is excellent:  as he strides through the Bakalah, with his Bamula tribesmen by his side, he looks every inch the born leader that he is.  It's an arresting image.
Livia rather optimistically offers her body to the Cimmerian if he will bring her Bajujh's head, only to be brought back to the helplessness of her situation when he tells her:
"You speak as if you were free to give yourself at your pleasure – as if the gift of yourself had the power to swing kingdoms. Women are cheap in this land.  If I wanted you, Bajujh would give you to me rather than fight me."
For reasons all his own, however, he and his men slaughter the Bakalah tribesmen; but when she sees him approaching her hut with the chief's dripping head she manages to mount an escaping horse and flees.
She ends up in a mysterious vale where brown-skinned women with the gait of zombies surround her:
"It's said these women are of a strange race which inhabited the land ages before the coming of the blacks.  There, men say, they turned into white flowers – transformed by the Old Gods to escape their ravishers."
So far Thomas has been able to effectively capture – albeit in a diluted state — the savagery of the original, but at this point he omits completely the lesbian subtext and simply has the 'women' about to sacrifice Livia to a Lovecraftian creature of the Outer Dark.  Conan, though, has trailed the fleeing girl – deciding that to force her to keep her word to him would make him no better than a rapist himself; and he quickly saves the day, before taking her back unmolested to the Stygian border.
This is another good solid issue and probably one that was difficult enough to pull off successfully.  And Thomas is more than ably assisted in the telling by the impression that artist John Buscema appears to be enjoying illustrating the disheveled and scantily-clad Livia more than he did in portraying the grimmer figure of the late Bêlit.
For good measure he also has a very nubile but malicious black tribeswoman visit Livia in her hut, and who seems to have stepped straight out of Robert E. Howard's imagination:
"The single, taunting laugh her visitor tosses back over her shoulder as she departs, bespeaks more insolence than any civilized woman could have suggested with spoken taunts."  
For a while now and never more so than during this extended period, Thomas and Buscema had made a seamless team of tale-spinners.  There seemed to be no end in sight to what they could accomplish together.
Avoiding Crow
Now, at this point I thought that I was going to have to eat some Humble Pie.
Whispering Shadows (#105) makes it clear that I have made a very slight geographical miscalculation in where the Bamula tribe was located.  I still assume that it would have been a number of weeks after the death of Bêlit before Conan came into the chieftainship; but that erroneously made me feel safe in assuming that this would have put him across the border into Kush.
Instead, this tale has him fleeing northward for that border after his rule has come to its inevitable end –the black-white divide just proving predictably too much.  So in fact the territory of the Bamulas must have been south of Kush and somewhat to the north of the Zarkheba River, where his she-pirate mate had met her end.
I was just about to put my hands up and dine on crow when it occurred to me, however, that I may have an 'out' in a passage from a famous letter from Robert E.  Howard to P.  Schuyler Miller, dated 10 March, 1936 and in which he writes:
"Concerning Kush, however, it is one of the black kingdoms south of Stygia, the northernmost, in fact, and has given its name to the whole southern coast.  Thus, when an Hyborian speaks of Kush, he is generally speaking of not the kingdom itself, one of many such kingdoms, but of the Black Coast in general.  And he is likely to speak of any black man as a Kushite, whether he happens to be a Keshani, Darfari, Puntan, or Kushite proper.  This is natural, since the Kushites were the first black men with whom the Hyborians came in contact – Barachan pirates trafficking with and raiding them."
So there you go.  That should make it clear that I never made a mistake at all.  Perish the thought.  I was simply speaking as any Hyborian would.
That's my story and I'm sticking to it.
In any case, this tale is based on a predictably limp affair with the equally predictably limp title of Castle of Terror from the dreaded (and limp) writing team of L. Sprague De Camp and Lin Carter; and it is one of those fill-in efforts that I could so easily live without.  This time around, though, because Roy Thomas additionally uses their story in order to help wind up Conan's stint with the Bamula, it's actually not bad.
And Buscema does a decent enough job with yet another Lovecraftian nightmare, which reminded me vaguely of the climax to The Dunwich Horror.  In fact, this one is so nasty that the Cimmerian does the wise thing, and stays the hell away from it altogether, leaving it to finish off a group of Stygian soldiers whilst he continues pell-mell for that troublesome southern border of Kush.
Into the  '80s…
And with the next two-parter, Conan the Barbarian entered the 1980s, having made a very tentative debut for Marvel Comics in October of 1970 — what must have now seemed a lifetime ago to Thomas, who was back then of course working with the rapidly developing artist, Barry Windsor-Smith.  It
This episode was based on an intriguing ten-page draft found amongst Howard's effects after his death, entitled The Snout in the Dark.  Although brief and rough, it provided a lot of useful information, not the least of which was that this tale took place soon after the barbarian's stint as a corsair on the Black Coast.  He is even specifically referred to as Amra, the Lion.
The draft was completed by De Camp and Carter; but since this time they had something semi-solid to work with, they weren't able to do too much damage – and Thomas improves the tale even farther with this contribution.
Issue #106 carries the rather clunky title of Chaos in the Land Called Kush and Conan is really only a secondary character.  It introduces several new ones, though, including a beautiful Nemedian girl called Diana, who has been captured by slave-traders and who is now forced to become a spy in the court of Queen Tananda.
Harshly attractive, this lady rules Kush's capital of Meroê with an iron fist.  It is uncomfortably composed of a wealthy inner city and a poorer one located outside the main city walls (this is particularly well captured by John Buscema in the lower panel of page seven); and Tananda puts down even the suggestion of rebellion with a ruthlessness that hasn't exactly won her too many friends.
This comes back to bite her on the ass when her entourage is surrounded in the outer city and she herself is almost killed.  She is only saved by the timely arrival of the giant Cimmerian, who she promptly makes her Captain of the Royal Guard.
And, it is intimated, her lover, something which — if we cast our minds back to The Dweller in the Dark (#12) and the equally vicious Queen Fatima – tells us that this isn't going to end happily.
Most of the proceedings are taken up with political (which in the Hyborian Age usually pretty much means murderous) maneuverings; and as regular readers will know by now, I always find that kind of thing fascinating.  Conan even deals with a minor uprising completely off-panel and doesn't really come into his own until the second part, Demon of the Night (#107) in which he does battle with the obligatory Creature of the Outer Dark before reluctantly leaving Tananda to die a well-deserved death during an uprising:
"A moment ago, Conan – true to his charge – would have risked life and limb to protect the cruel, thoughtless Queen he had sworn to serve.  That's just the way he is.  No use, however, in protecting a corpse. "Besides, Conan is bronze of skin, for all his years south of Stygia.  He doesn't fool himself into believing he could join the rebellion, or even survive it for long."  
He flees the city with the fair Diana sharing his saddle, having spent not quite two months in Meroê; but it is safe to say that his presence has helped to change the course, if only in a small way, of Kushite history.
Next.  The Final Volume – 14: Shadow of the Beast