Star Trek
Graphic Novel Collection
Volume 01
Countdown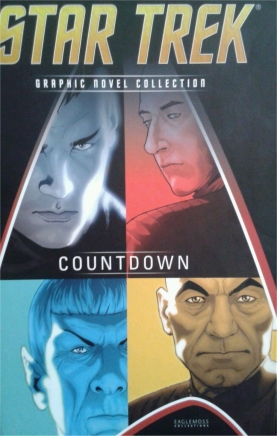 I would never miss a Star Trek film.  I love them; even that really bad one, you know the one I mean.  Yet I wouldn't go particularly out of my way to catch one of the many small-screen incarnations that this extraordinarily endurable social phenomenon has spawned.  And I have certainly never entertained even the notion of reading the adventures of the Trekkers in comic book form, being only vaguely aware that there was such a thing.
So I picked up this introductory volume to an entire series simply because of that reel-them-in price of €2.99 or £1.99 (!).   And I'll be damned if this isn't just BRILLIANT!  I mean, I love this volume:  the artwork is utterly superb and the story has been written by grown-ups.  Hell, the four-part mini-series that is reprinted here is as good as even the very best of the movies or TV shows.
Intriguingly and daringly this sumptuous, gorgeous 88-page visual feast acts both as a sequel to the Next Generation film Star Trek:  Nemesis (set eight years after those events) and as a prequel to JJ Abrams's 2009 reimagining Star Trek.  And to the eyes of this non-fanatic it appears to work perfectly.
It seems that TrekMovie.com editor Anthony Pascale kept harping on to Roberto Orci — co-writer of the 2009 film – that he come up with a way of smoothly having the Next Generation characters 'pass the baton' to the new guys.
And I think that it is just superbly done here.  Growing organically from a truly humane and engrossing story we learn how the Romulan Nero got to be captain of that lethal ship of his; but even better is that we see the 'returned' Data as Captain of the Enterprise; Commander La Forge as engineer-creator of the fabulous 'Jellyfish' ship; Ambassador Picard, now on the planet Vulcan; and a coldly ferocious General Worf of the Klingon Empire.  All the elements are juggled with beautiful elegance, but it is as much as anyone's story, that of the ageing Ambassador Spock.  And this is fitting, given what an enormous role he played in joining of the two Trek realities that now exist.
The artwork is by David Messina and coloured by Giovanna Niro and as you will have gathered I can't rave about it enough.  The plot is by the Star Trek film screenwriters Roberto Orci and Alex Kurtzman, fleshed out for the comics medium by Mike Johnson and Tim Jones.  The greatest compliment that I can give to their skills is to say that I could hear the actors actually speaking their lines in my head.
Star Trek:  Countdown is a big meaty roast of a story, a glossy treat for the eyes… and I can't recommend it highly enough.
Gold Key Addition.
And just for dessert the publishers have added the very first issue of the Gold Key Star Trek comic from 1967.  The intro tells us:
'Famously, the Gold Key team only had a few reference documents to work from, so some iconic elements of the Enterprise differ greatly from those depicted on television…'.
I'll say.  At the conclusion of The Planet of No Return the Enterprise commits genocide against an entire vegetable life-form simply because Mr. Spock perceives it as being a future threat!
I guess that Gold Key didn't get the documents pertaining to the Prime Directive, then.
The story is charmingly dated, with some amazing dialogue along the lines of "Suffering star dust!" and "Howling comets!  This suction force is being created by a giant cannibal plant!  And it drew the weapons right out of our hands!"
And it makes a wonderful and historical point of comparison between the old and the new.
This marvelous introductory package is rounded off with front covers and preliminary character sketches; and just to make me even happier there is a lovely Gold Key back cover of a still from the first Star Trek series and which features Yeoman Janice Rand, who ran through so many of my kiddie-dreams back then.  Mind you, so did Lieutenant Uhura.  I was an equal opportunities randy little pre-pubescent.
The Collection.
Listen:  you know how these deals work.  They start you if with an insanely inexpensive first issue, followed by a reasonable second one (accompanied by really nice goodies if you subscribe); and the hammer comes down price-wise from then on.  The only complete collection I ever made was the Patrick McGoohan series The Prisoner and I wouldn't swap that for a night on the tiles with Yeoman Rand.  But you really can't go wrong by taking a chance with this one.
For myself, I'll also be buying the second volume simply because it is the original teleplay to Harlan Ellison's classic The City on the Edge of Forever.  After that, we'll see – but if the quality is to remain as high as it is with this first package, I'll be subscribing.
And what was that really bad Trek film I mentioned at the start?  It was, of course, the William Shatner-directed Star Trek V: The Final Frontier.  Oh boy.  Almost no redeeming qualities.
Star Trek:  Countdown. 
2016
IDW Publishing