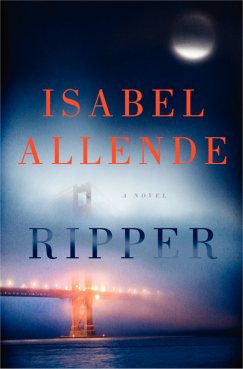 Ripper
by
Isabel Allende
To which I can only say:
What the bloody Hell was that?
I've always felt – vaguely and without exactly worrying about it, it must be admitted – that I have been missing out on something through never having read the Peruvian-born writer, Isabel Allende.  I don't know what it is, but I just had this impression that she is considered to be one of the contemporary greats.
Well, maybe she is; but her reputation wasn't built on her 2014 novel Ripper, that's for sure. At least I hope it wasn't or else I'm even more out of touch than I thought.
I picked it up thinking that since it's being sold as a San Francisco-based thriller about a serial killer, it would be a painless way for me to get to know what Allende is about.  Unfortunately, it's neither very well written nor particularly thrilling.
And since I now hear that the author is admired for the depiction of her characters…well, I'm more puzzled than ever.  Because I think that you would prefer to be surrounded by your least favourite half-dozen pub bores than this lot.
Indiana Jackson is – get a load of this – an expert on magnet therapy, crystal therapy, Reiki, aromatherapy and something called intuitive massage, as well as even more mumbo jumbo items than you could wave a New Age wand at.  And she's an absolute babe, into the bargain, which disturbingly leads to this observation from her dad, one of the novel's heroes:
"Indiana was such a devout disciple of the goddess [Shakti] that she had once considered taking her name until her father, Blake Jackson, managed to convince her that a Hindu goddess's name was not appropriate for a tall, voluptuous blond American with the looks of an inflatable doll."
Now call me boringly old-fashioned but the thought of a father even thinking that about his daughter, let alone actually articulating it, is to me creepier than anything else in this book.
She is also a do-gooder of such annoying proportions that she is actually compared to Mother Teresa – and since I'm not exactly a fan of that particular old lady, that didn't really do anything to help endear me to her, either.
Fifty Shades of Absurdity
Indiana has a daughter, Amanda, who I'm depressingly convinced we are supposed to fall in love with as a kind of new Lisbeth Salander.  Well, if that's the case, then the author is off-target by about a galaxy and a half.  And I'm not talking about the length of a chocolate bar, either.  This kid is even more irritating than her mother and her chief source of entertainment seems to be playing an online computer game called 'Ripper', in which a group of devotees are currently trying to solve a spate of murders in the San Francisco area.  These teens are all strange in their way and that's OK; but one is an anorexic whom nobody seems to question her belief that she has psychic powers.
And Grandpa Blake is one of the players, in amongst all these disturbed kids.  There he is, chatting away with his granddaughter about a murder victim getting a baseball bat rammed up his ass.
Again, call me old-fashioned but… creepy.
Indiana also has a supposedly rich older boyfriend of four years who is described as looking like Hugh Grant.  She seems to be content that he treats her like a whore at worst, and as someone whose social class he is ashamed of, at best.  Not being the sharpest pencil in the box, Indi never questions why she's never been introduced to the family.
The reason I've gone on about these unbelievable characters is because every single time that something interesting threatens to happen, Allende goes into page after page of often completely pointless back story.   Which may in fact be a good thing, as it stops you looking too closely at some of the plot holes.
I've saved the best for last, though.  One of her many admirers is the ex-Navy SEAL Ryan Miller.  You just know that Ryan is going to have a haunted past, ex-Afghanistan vets having taken over from ex-Vietnam ones in popular fiction now that the latter are too old.  Ryan has adjusted to the loss of his leg well and still does covert ops (always wanted to write that) for the CIA, but inside he is pretty well fucked-up.  And yet for some reason he just reduces me to tears of laughter.
He goes violent batshit when he gets touched up (in a gay bar!) showing a strong trace of homophobia that may or may not be linked to a subliminal desire to play the pink oboe himself.  It's that kind of book.
Oh, and he's got a girlfriend called Jennifer Yang who is into sadomasochism and really pissed off that he won't beat her hard enough. (He's really sensitive, deep down.)  In fact, she even gives him a copy of Fifty Shades of Grey in order to get him in the know as to what she likes.
There you go; I'm cracking up with tears of laughter again.
Actually, writing all this down makes it sound better than it was.  It's not.
And at pushing on for 500 pages in length it's probably better that a friend tells you.