Revisiting Larsson's
The Girl Who Played with Fire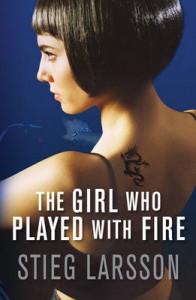 "I've had a miserable week and I'm in a bad mood.  You know what the worst thing is?  Every time I turn around there's some fucking pile of shit with a beer belly in my way acting tough.  Now I'd like to leave.  So move it."
          — Lisbeth Salander
There is a scene late in Stieg Larsson's 2006 novel The Girl Who Played with Fire where investigative journalist Mikael Blomkvist is wandering through the enormous and eerily empty apartment of his strange erstwhile assistant and lover, Lisbeth Salander.  The manner in which it is laid out, the emptiness of most of the rooms and the decoration, or lack of it, all remind him of just how tragically isolated and alone a figure the young asocial genius truly is.
"Blomkvist felt as if someone were squeezing his heart.  He felt that he had to find Salander and hold her close."
Those two lines struck me as just about perfect; because it was pretty much how I had been feeling throughout this riveting second book in the Millennium trilogy.
I've seldom come across a character in literature so psychically isolated to such an extraordinary degree.  Of course, the problem is that showing Salander any kind of unasked for kindness through a hug would probably cost you a hand.  She may be an anorexic-looking wee 'doll' of a creature but she knows how to handle both herself and her very useful taser.  In fact, I think that would be a good name for a Goth band:  Lisbeth Salander's Taser.   Just ask a couple of motorbike heavies who try to mess with her.
Now that there has been a fourth book added to the series, continuing on after Larsson's death, I wanted to revisit these books.  I had gone back to The Girl in the Dragon Tattoo last November (reviewed on this blog) and like that first episode this one is even better the second time around.
Here we go deep into Slander's past to see the forces that shaped her.  And weirdly enough, the more we learn the more mysterious she becomes.
Another odd thing is that I always think of Blomkvist and Salander as a team.  I was surprised to be reminded that in Dragon they don't meet up until page 300 and here they don't really meet up at all until the last page.  Yet we always think of them together.
These books are utterly devastating exposes of the corruption at the heart of Swedish society – high financiers in the first outing, pornographers and traffickers in this one and sprinkle with neo-Nazis throughout.
Larsson himself was a journalist who was deeply into investigating white supremacists in general and right-wing extremism in particular.
He had planned to write ten books in this series and had delivered the first three manuscripts to his publisher when he died at the age of fifty.  Considering that they read like very angry exposés as much as novels I'm not surprised that there are conspiracy theories that suggest his heart attack was helped along by a little judicious poisoning.
I suggest nothing except to note that he died on November 9th, 2004.  It was the anniversary of Kristallnacht, the Nazi Night of Broken Glass.
One of Life's odd little coincidences.