Public Perceptions, Private Passions:
Gone Girl
(2014)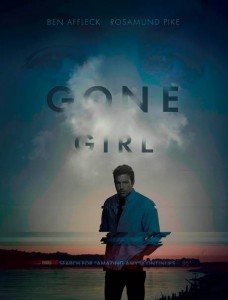 Like Peter Weir or David Cronenberg, David Fincher is amongst a short list of directors from whom I consider a new work to be an event.  It's been that way since his hideously undervalued debut, Alien 3.  Unlike the two aforementioned, however, I'm not always on Fincher's wavelength.   The man is incapable of making an uninteresting film; it's just that I don't always quite get his artistic choices—even with one that I like.  And that is definitely the case here.
Folks, this is a strange movie.  This is a deeply, deeply strange movie.  Give it an hour and you may think that you have a handle on it.  Trust me, you haven't.
Fincher chooses to put under his credit sequence a series of staccato shots depicting what seems to be a town that is just on the verge of becoming rundown.  I was thinking that maybe we were going to revisit Se7en, only without the rain.  Prices Lowered signs would seem to point up that very familiar recession and the colours are faded, subdued.  Then we see Ben Affleck entering his home and, you know, it looks…well, pretty great, actually.  And within minutes we're looking at a colour scheme that seems back to normal.
It's a small loop to be put through but it is the first of some increasingly major ones that you're going to get.
Nick is 'celebrating' his fifth wedding anniversary but instead of spending it with his wife Amy (Rosamund Pike) he is in the bar with his twin sister Margo (Carrie Coon), knocking back the hard stuff at half-ten in the morning.  Outwardly, they appear to be the quintessential perfect couple but behind the scenes things aren't going so well.  There are money problems for a start; but we'll find out more –and sometimes in conflicting ways—as the film progresses.  And that is something that it does at a very leisurely two and a half hours.  Screenwriter Gillian Flynn, working from her bestselling book, is in no mood to rush her story; and neither is her director.
Nick arrives home to find signs of a struggle and Amy gone.  The neighbours rally around him, even though the detective investigating (Kim Dickens) is suspicious; but as more details emerge amidst the chaos of a media feeding frenzy we begin to wonder if Nick hasn't in fact murdered Amy.  Fincher makes us privy to some private scenes but never enough to sway us either way.
The dialogue is odd.  The characters don't quite behave in the way that you would expect them to, with the possible exception of the sister who is played expertly by Coon.  It's the police questioning; it's the parents' reactions; it's the manner of Nick himself.  It's all just a little off.  And that keeps the viewer off balance, which is no doubt the filmmaker's intention.
And then there's that soundtrack by Trent Reznor and Atticus Ross.  In the earlier romantic scenes it is just plain strange, sounding almost like a bunch of guys playing merrily away with some mediocre sounds in an adjoining room.  Later, it becomes downright sinister and hypnotic.
Finally Nick is forced to hire a lawyer who specializes in these kind of husband-wife cases.  He is beautifully played by Tyler Perry and is one of the highlights of a very engrossing film.
And then a really odd thing happens.  Gone Girl seems to veer into satire and the very blackest of comedy –and you'll either go with it or you won't; either way it is quite an experience.  Because you suddenly find yourself thinking over earlier scenes and realizing that it has in fact been fairly surreal from the beginning.
For me it is at its best when showing the hypocrisy of the media and how it can quite shamelessly crucify a person before completely rehabilitating them as a hero.  And of course we go with them every time.  The scene in which Nick stands in front of the cameras with Amy's parents is familiar to us all; and how many times have we made our minds up there and then that the husband did it. (Of course in Ireland some years back we turned out to be right.)
I'm really glad to see Rosamund Pike being given the chance to get her teeth into a really juicy part; and she doesn't miss her opportunity. As to Ben Affleck, I'm a fan.  I like that laid-back slouch he has with the promise of repressed anger behind it; and that's something that suits this role down to the ground.
Even though I didn't find Gone Girl to be as perfectly satisfying as so many others have, it's great that we have people like Fincher out there, happily doing slightly offbeat movies in a commercial way.