The Fracturing of the Soul:
Murder on the Orient Express
(2017)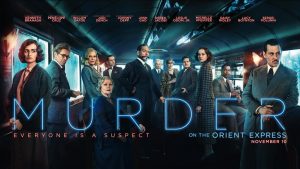 Early on in this new version of Agatha Christie's classic murder mystery, Inspector Hercule Poirot (Kenneth Brannagh) declares with passion that there exists only good and evil, with nothing in between.  It's hard to see how any human being, let alone one of his brilliance, can have reached the age he is and still maintain such a rigid – and patently false – moral stance.
Of course, by the end of Murder on the Orient Express, Poirot will have been witness to the fracturing of not just one soul, but of many; and he will be a wiser, more tolerant and sadder man.
One of the problems with this remake for anyone over 40 is Sidney Lumet's fine big-name 1974 ensemble version, with Albert Finney as the Belgian sleuth.  That would be hard to beat at the best of times.  And back then it was something of a novelty to see one of these pieces, with major stars all doing their own thing — A Bridge Too Far is another one that comes to mind — but these days it's not such a big deal.
The other problem is Brannagh himself, as he has decided to direct from Michael Green's script as well as star.  Now Brannagh is a decent director, with an interesting and very mixed bag of fourteen films behind him, including five fine Shakespearian adaptations as well as the odd complete dud like Mary Shelley's Frankenstein.  But taking on the lead role as well?  He's done it in the past, but this time it is his own personal 'bridge too far'.
He never really convinces as Poirot, especially as we have now been thoroughly spoiled by David Suchet's sublime interpretation.  And don't get me started on that ludicrously over-the-top moustache!  Good God, who on earth thought that was a good idea?  It remains the single most distracting and offputting thing in the entire film.
I really wanted to give this version every chance, but my heart sank right from the overblown and totally unnecessary prologue in Jerusalem; and by the time that we eventually boarded the Orient Express and were introduced to its grab-bag of soon-to-be murder suspects, I knew that it wasn't likely to rise to the surface again.  Still, at least I could look forward to some big-screen glamour as the famous coaches sped through exotic 1934 settings.
Well, not really; I had forgotten that the train gets stuck in a snowdrift – or an avalanche as it is here.  From then on, despite Brannagh's best efforts with tricky camera-work, I felt as if we might as well be watching a stage play. It also served as an unfortunate reminder of how damned good Sidney Lumet was with characters in slightly confined spaces.
Pacing is yet another problem, with one glaring scene where the really bad guy Ratchett (Johnny Depp) tries to enlist Poirot's help.  I can see that it is important in showing Poirot's integrity and sheer courage; but despite Depp tapping into left-over reserves of Whitey Bulger from his excellent Black Mass, it merely serves – as do several other scenes – to bring this train to a grinding stop.
Murder on the Orient Express has an impressive cast that includes Derek Jacobi, Willem Dafoe and a host of others; but in the case of Judi Dench and Penélope Cruz, it's hard to see why they signed on for this other than as a favour to Brannagh.
The one stand-out is Michelle Pfeiffer as Caroline Hubbard, a good and juicy part that this beautiful and talented actress squeezes the very best out of.  It makes me wish, not for the first time, that we could see more of her in decent films.
There's a good movie in here somewhere.  I particularly liked the scenes of Poirot wrestling with his conscience towards the end; and the actual murder itself is really quite nightmarish and disturbing.  Yet it seems wildly optimistic to close with a set-up for a remake of Death on the Nile.  If he gets his wish, the talented Mr. Brannagh may want to change his strategy somewhat.