Meet Merrily for a Glass of Cider: The Wine of Angels

Right off, I have to say that I find it very hard to be objective about the northern English writer, Phil Rickman.  I know that he has his faults, but for me most of them are minor and are quite easily overlooked.

[pullquote align="left"]Some people think that Phil Rickman's books go on 'way too long. For me, they couldn't be long enough.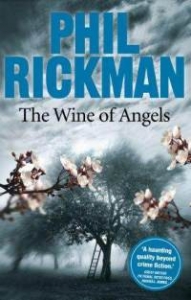 [/pullquote]  I picked up his first novel, Candlenight, when it appeared in 1991 and was immediately hooked on him.  Rickman was then a reporter for the BBC and he brought to this supernatural tale of extreme Welsh nationalism a realism that was very different to the usual horror story.  By mixing in modern-day politics with ancient paganism he had struck a vein that, whilst it may not have been completely original, was certainly intriguing enough for me to look forward to his second outing.

This proved to be Crybbe, this time set on the Welsh/English border and again dealing with Celtic mythology.  He also used a very minor character from his debut novel as one of the leads here and that was enough for me.  I've always loved completely invented universes and here it was obvious that the author was going to build on each previous outing, which in fact proved to be the case.

In 1998, with his sixth novel The Wine of Angels, however, he set about exploring one group of characters in a single setting.  The setting was Ledwardine, joining his fictional villages of Y Groes, Crybbe and Bridelow.  Ledwardine is not as sinister as these, although it does have its secrets; and some of those secrets are dark indeed.  Again, it is on the Welsh/English border in Herefordshire and to this attractive black-and-white village comes the new Anglican vicar, the Reverend Merrily Watkins.

Now one of the charges sometimes levelled against Rickman is that some of his characters are a bit clichéd.  I'm not going to argue that one, because it doesn't matter to me as long as stereotypes are handled well.  And after all, clichés are clichés because they tend to be truisms.  So here we have Merrily, early thirties, heavy smoker, attractive widow, going through her own crisis of faith and with a rebellious 15-year-old daughter into the bargain.

I love Jane, the daughter.  Whilst there are times when I feel shaking her mother for taking on the pain of everybody around her, Jane is wilful and determined not to let anybody walk over her.  She's dismissive of her mother's religion and when she comes in contact with Lucy Devenish, the village 'wise woman', she reckons that she has found her mentor.

Gomer Parry, the gutsy old pensioner (last seen in Crybbe, charging around on his beloved digger like a mad thing) comes in as a regular cast member; and a great character he is, with the fag perpetually clenched between his teeth.

Then there's the timid, damaged and suicidal Lol Robinson, who was once on the verge of becoming a major recording artist but is now hiding away from the world, obsessed with and feeling an unhealthy connection to, the real-life 1970s singer Nick Drake.  Indeed, some of the chapter headings are taken from Nick Drake songs.

[Nick Drake died of an overdose at the age of 26 and you can listen to one of his songs at the end of this post. Curiously enough the late actor Heath Ledger had shot and edited a Nick Drake video before his own untimely death.]

There are the yuppie incomers, who want to organise the village for the locals; there's the grumpy squire and his sexy mistress.  Do you see? On paper, when you write this down it shouldn't work; and yet you come to care for these people.

A departure here is that this novel is harder to categorise. There are horrible moments but it's not a Horror novel. There are supernatural-seeming aspects but with a bit of imagination a lot of them could be explained rationally. It certainly isn't as in-your-face as are Rickman's first five novels.  It's been called a 'murder mystery' and I suppose that's as good a label as any, but it's not really accurate either.

In this first outing, Merrily finds that as well as having to face the prejudice that some locals have against a female priest she lands herself in the middle of a controversy.  And it is here that The Wine of Angels most closely resembles the writer's previous work, with the dead past refusing to remain buried.  Oh, and cider has quite a part to play here also.

Some people think that Phil Rickman's books go on 'way too long.  For me, they couldn't be long enough. I'm rereading the Watkins series at moment (hence this review) and I'm enjoying taking it slow, learning about the village and its people once again.  This book might just point you in the direction of the real-life 17th century minister and mystic, Thomas Traherne.  I wouldn't exactly be too well up on poetry but his stuff is great, if you want to search it out.  You'll also come away with a new respect for the lore of Apples and Orchards. All that and a great story to boot. I don't know why these novels haven't been filmed for television.

Inspector Morse with pagan rites; yes, I could definitely see that.

Nick Drake – 'Cello Song – Enjoy.

[media url="http://www.cbsays.com/wp-content/uploads/2012/11/Nick-Drake-Cello-Song.mp3″ width="300″ height="50″ jwplayer="controlbar=bottom"]