Deliver Me From Worthy Films!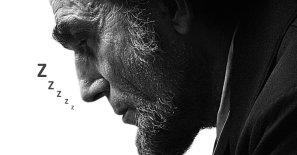 There's an entire day gone out of my life that I'll never get back again.
What's that you say?  Stephen Spielberg's Lincoln was only two and a half hours long?  Good heavens, I must have taken an accidental hit of slo-mo, the drug from Dredd (a far better movie and I'm not kidding!) that makes everything seem to crawl along at a snail's pace;  because I felt as if I was watching Lincoln forever.
That is the kind of opinion that is likely to have you taken out and shot by the Movie Police.  This seems to be a film that we are almost obliged to like, under pain of death.  It is so reverential and just plain damned worthy that I actually feel guilty in wondering what the hell all the fuss is about?  And twelve Oscar nominations?  Why, for pity's sake?
It focuses on the last few months of Abraham Lincoln's life as he sought to bring the American Civil War to an end and to push through the 13th amendment, which would abolish slavery.
I really thought that I could watch Daniel Day-Lewis in anything.  He is one of those actors who simply inhabits a role.  He's no different here either.  But unlike, for example, There Will Be Blood in which it impossible to take your eyes off him, here you can admire him without becoming particularly involved.  Sure, I couldn't have picked two more opposite characters but I thought that Abraham Lincoln was supposed to have been this totally charismatic leader.  With his reedy voice I felt like screaming every time he broke into one of his folksy homilies.  When Secretary of State Edward Stanton (Bruce McGill) stormed off, yelling that he couldn't bear to listen to any more, I was in full agreement.  I've actually heard Joan Burton being more interesting.
It's nice to see actors like James Spader and Hal Holbrook, who seem to have been missing from the big screen for a while;  but far too many of the other supports—and let's be honest, next to Day-Lewis everyone is a support—seemed to think that they had to deliver each line as if they are on stage.  Even normal conversation is delivered with sombre importance.  In fact a great many scenes look as if they are from a stage play, so static does everyone appear, as if afraid that they might put the Great Man off if they burst into life.  There are exceptions, none more so than David Strathairn as William Seward.  But then Strathairn is brilliant in anything he does.  Unfortunately he is so good that he draws even more attention to the stiffness of everyone else.  And I rather liked Jared Harris's bluff portrayal of Ulysses S.  Grant.
On top of all that this is likely to be the most dimly-lit film you will see this year.  Seriously, compared to this Fincher's Se7en is a blaze of colour!
One of the things that I did like, however, was the understated way in which Spielberg showed the horrors of war.  Like the scene in Saving Private Ryan where the soldiers are passing dead cows in a field this seems to be much more effective.  I'm thinking here of the huge hole into which the amputated limbs are being dumped, or when Lincoln rides through the corpses at Petersburg.
Best of all, thanks a lot for Tommy Lee Jones and his wig.  I broke into a smile every time that they appeared on the screen together.  This is the dodgy wig to end all dodgy wigs!  Do you remember Joe Pesci's truly appalling wig from JFK?  Well, this one is even better.  It deserves its own screen credit and if it hasn't been signed up by an agent at this point there is no justice.  None.
Sorry about that.  I was making jokes there and that is something that should not be done.  Lincoln should be muttered in the most respectful terms at all times.  And in case you forget you will always have John Williams' soundtrack to remind you of just how important this film is.
You'll notice that I haven't mentioned Sally Field as Mrs.  Lincoln.  There's a reason for that; I don't want to.  In fact, I got so depressed every time she was on the screen emoting like mad that I guess she'll probably get the Best Actress Oscar. That's not a compliment by the way.
This episode of The Lives of the Saints was brought to you by Stephen Spielberg and the screenplay was by Tony Kushner.  Now please, let us all bow our heads.
Meanwhile, on the Internet :