This House is Haunted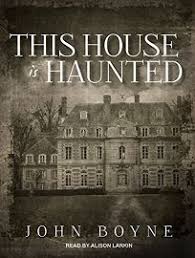 I'm always on the look-out for a good modern-day ghost story; and that's 'ghost' as opposed to 'horror', although if you want to mix in a bit of both, that's all right with me.
The last time I came across one was several months ago:  Closing Time in Neil Gaiman's 2006 collection, Fragile Things.  I'm not a big fan of Gaiman's longer pieces (I found it impossible to finish American Gods) but some of his shorter work is superb and this twelve-page story left me with a genuine chill.
Still, it would be nice to find a recently written full-on ghost story; thus, when this one literally fell off a shelf in my local library, I took it as a sign.   Poltergeist activity?  If so, then it wasn't a particularly helpful one, because John Boyne's 2013 This House is Haunted is pretty disappointing.
You'd think that at this stage I would know better than to believe back-cover blurbs; but this one from the Sunday Independent is particularly misleading:
"Boyne takes us on a highly original, entertaining journey…"
Original?  Really?  How does this grab you:  it's 1867 and the new governess, Eliza Caine, arrives at the eerie Gaudlin Hall, peopled only by a housekeeper who keeps vanishing; a rude, belligerent groundsman who can barely stand to give her the time of day; and two small children that she is to take charge of, one of them being on the decidedly creepy side.  And as we veterans know, there is nothing creepier than a creepy child.  Remember when Kevin Bacon's kid suddenly spoke with that deep voice in Stir of Echoes?  I'm still not the better for it.
Add in that the people of the nearby village clam up every time Eliza utters the words 'Gaudlin Hall' and the fact that she's attacked by an unseen presence half-a-dozen times in the first week and you might wonder why she isn't saying: 'Well, it's been fun and the place is great but I'm getting the bejeezus outta here.  No, don't bother – just send my wages on!'  However, Eliza is made of sterner stuff.
There is still a lot of fun to be had from these familiar tropes.  It's a bit like pulling on worn but well-loved and comfortable clothes.  It's just that at 350 pages this book still managed to seem very slight.  And in fact it's entirely possible that Mr. Boyne intends the whole thing as some sort of parody; but if so, then it went right over my head.
Boyne is one of Ireland's most versatile writers and I have enjoyed both his Mutiny on the Bounty and The Boy in the Striped Pyjamas.  This one just doesn't ring my bell, though.
Eliza herself is a queer fish, though undoubtedly a brave and honourable one.  She repeatedly describes herself as unattractive – and this is borne out by the observations of other women.  Yet at least one man certainly finds her appealing; and on Eliza's part there is certainly a lot of good old Victorian-era sexual repression.  But that doesn't really go anywhere; no more than the disturbing idea that long before she goes to Gaudlin Hall she at least appears to have two psychic episodes:  once when she experiences a vision of her mother in the street and once in the graveyard after her father's funeral.
They are never referenced afterwards and it all adds to the reader's frustration with the book.
Well, this reader, at least.  And nothing to do with the novel at hand, but here's Alice Cooper singing a song of the same name…just because I think that it's so damned great!