In the End, Everybody Breaks:
Zero Dark Thirty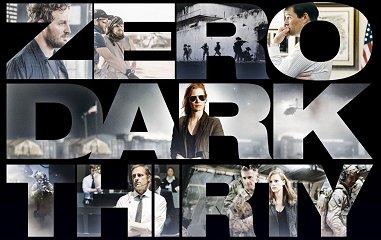 I would imagine that by now almost anyone turning to a review of director Kathryn Bigelow's new film Zero Dark Thirty knows that it centres on the hunt for Osama bin Laden, the terrorist behind the bombing of New York's Twin Towers, amongst other things, by an elite CIA team of investigators.  So I'll set that aside for the moment and at least try to tackle the main controversy that surrounds the film.
Actually, there are several hot potatoes when it comes to this movie but the main one that I've been hearing this week revolves around its use of torture.
So:  to be blunt, does Zero Dark Thirty glorify and even justify the use of torture?  In my opinion, no it does not. It certainly shows torture, there's no two ways about that; but showing something and condoning it are two very different things.  Indeed, in the unblinking eye of the camera that Bigelow uses to film these really distressing scenes it seems to me that she has defused one of the other allegations that are being thrown at her:  namely, that she has allowed herself to be used as an establishment pawn.  Frankly, I am at a loss to see how that feeling has come about, although I think that there's no doubt that she has been helped at an official level.  Bigelow seems to me to be smart enough and tough enough to have compromised—and this she must have had to do—on her own terms.
Yet leaving aside the fact that she is not flinching from showing us her countrymen and women in a less than flattering light, she also includes a short but telling scene in which President Obama is seen on a television screen in the background whilst three CIA operatives are discussing strategy.  The President is telling an interviewer that "America doesn't torture".  This is ironic in the extreme as we, the audience, have just witnessed a lengthy and brutal interrogation during which the lead character Maya (Jessica Chastain) is told in no uncertain terms by her colleague:
"Just so you know.  This is going to take a while.  He has to know how helpless he is."  Then later he adds:  "In the end, everybody breaks."
Now that to me seems fairly unambivelant and certainly does not show America in a good light at all.  Quite apart from the fact that torture dehumanises the torturer it has been shown time and again to be unreliable and often leading to false information, thus doing more harm than good.  Yet other studies have shown it to work.  I would tend to think that the facts over a long period would seem to support the former, but the truth is that I don't know.  I am also guilty of some hypocrisy.  The nice, civilized side of me may be shocked by, for example, the scenes of waterboarding; but the fact is that if I had lost a loved one in the Towers or indeed on a London bus then I would want anyone with information going through whatever torture was deemed necessary..  I'd worry about abstracts like ethics later.
We the viewers are put into an uncomfortable position here.  Bigelow keeps her movie very low-key for the most part and I would argue that she does as much as could be humanly expected of her in order to show the torture without being voyeuristic.  Yet cinema, by its very nature is voyeuristic.  How can it not be?
"Torture's Handmaiden…"?
Some of the attacks on her quite simply verge on the ridiculous, perhaps none more so than the insufferably smug Naomi Wolf (attempt to read her self-congratulatory book of New Age baloney The Treehouse and you'll know exactly what I mean).  Wolf has come out with a ludicrously over-the-top statement comparing Bigelow to Adolf Hitler's favourite film director, Leni Riefenstahl:
"Like Riefenstahl, you are a great artist.  But now you will be remembered forever as torture's handmaiden".
What absolute bullshit.  Still, I suppose that it's better than being remembered as the author of The Treehouse.
I feel as if I shouldn't be spending so much time discussing these things when it is as a film that Zero Dark Thirty should be judged; but in a film of such sensitivity it would surely be wrong to ignore these objections altogether.  However, others are arguing the political side of it better than I, so I'll just observe with a shrug of the shoulders how odd it is that in pleasing no political sides Bigelow has succeeded in crafting a film that is a complete triumph in the cinematic sense.
She opens without credits, but after a short caption which says that first- hand accounts have been used, the date 'September 11, 2001' comes up on the screen.  This viewer briefly wondered how the film makers were going to show the always-emotive shots of the crashing planes in any kind of new light.  Instead the screen stays black…and stays black for what seems like a very long time.  On the soundtrack are the sounds of panicked phone calls and the words of rescue workers.  Sitting there in the dark looking at a dark screen and hearing these voices is an extraordinarily effective way of opening this very dark film.
The next caption is '2 years later' and we are into the first of the torture scenes.  Quietly observing this is a figure with a balaclava and as they emerge into the light it is something of a shock when the hood is removed and it is a woman's face that we're looking at.  Our own prejudices have a light shone on them immediately.  Why should we think that a woman is less able to participate in barbarity than a man?  Bigelow (herself a woman working at something that is traditionally seen as a male task, especially in this genre) undercuts our expectations in small, subtle but effective ways throughout the film.
Maya, who is the lady in the hood, at first seems like a frail and wispy woman; but from that first shot of her face she is well able to carry this film.  It must have been quite a job to find an actress that could take us along with them, even though she isn't particularly a person that is easy to empathise with.
From here we follow in meticulous, but never tedious, detail the efforts of the team and of Maya in particular over the period of a decade.  You'll hardly need a spoiler alert when I tell you that they get their man in the end; and the decision to film this largely through the point-of-view night goggles of the Navy SEALs is another perfect decision from Kathryn Bigelow and her team.  So is the fact that we never see as much as an image of bin Laden throughout the movie and here, with him lying dead, we see him at only the most oblique of angles.
This is a film that stays with you long after the credits have rolled and it was only later that it occurred to me that there never was much of a discussion—was there any at all?—on taking him alive.  Indeed, the ruthlessness with which the Americans execute their mission in front of terrified women and children is hardly the stuff of heroic tales of yore.  But it is undoubtedly more realistic.
The film closes with Maya boarding a plane that she is the sole passenger on, her hunches of the past years having been vindicated.  Now she is 'pretty important' in the eyes of the pilot, who also utters the last words of the film:  "Where do you want to go?"  There is no answer.  After the single task to which your entire working life has been devoted is over, where would you see yourself going?
As a single tear runs down her cheek the camera holds on her face and as the film  ends we are left with the feeling that we have seen something quite different from what we expected.
Well, that's just me being pompous and using the royal 'we'.  I'm sure as many people hated it; but I really hope not.
The screenplay is by Mark Boal and, although it seems quite spare at times, it comes as a surprise when we consider how much information he has managed to impart.
The use of music is so restricted that for a while I didn't notice how effective the soundtrack is, when used.  It is by Alexandre Desplat.
Zero Dark Thirty is nominated for five Oscars, including Best Picture, Best Actress and Best Original Screenplay.  I doubt if America is ready for a film that shines such a harsh light on it, but we'll see.