5-Star Tedium:
The Grand Budapest Hotel
(2014)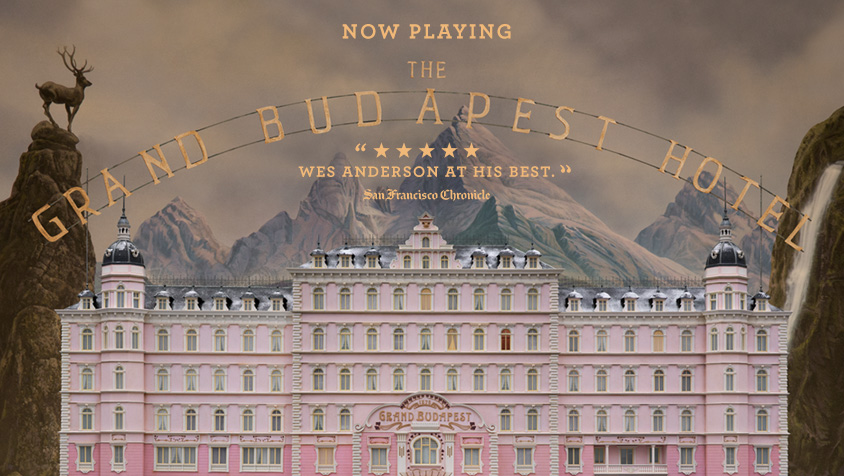 I occasionally meet keen young film student types and I always enjoy that marvelous feeling that you get from them; that buzz, that excitement at being on the edge of discovering something great.  They remind me of how I felt as a teenager on a Tuesday when I would head for Glasgow.   I'd see a movie either in the morning (they had that civilized habit there) or the afternoon.  Then I'd eat a Chinese meal, drink a couple of beers and head for the Film Club, where I was learning that films could be so much more than simply two-hour time wasters.  Happy days.
If one of these young 'uns (I'm beginning to feel like Pa Kettle here) has just stumbled across some early Cronenberg then I'm happy out for them; if they've 'discovered' Sam Peckinpah or Ken Russell, then I'm in heaven.
All too often of late, however, they'll look at me with big puppy-dog eyes and say with reverence and expectation:  "What do you think of Wes Anderson?"  And with a heavy heart I have to admit to being unfamiliar with his work; at which point an older guy who had appeared vaguely interesting is dismissed as too past-it to understand the 'quirky genius that is Wes.'
Obviously, this state of affairs couldn't be allowed to continue; and now I know, young 'uns, now I know.  And I'm not the better for it, I can tell you.
Listen:  show me a plot that has a hotel in it and I'm a happy little camper.  It doesn't have to be a heavy Redrum & Overlook effort. It can be something utterly charming like The Best Exotic Marigold Hotel.  I love that movie.  And there's the problem:  I don't think that I was supposed to approach Anderson's The Grand Budapest Hotel as 'just' a movie.  I think that I was supposed to appreciate it as A Whole Artistic Experience.
If that is the case then let me put my hands up and say that it went completely over my thick skull.  Sure, I get it that every frame is perfectly composed and that his use of colour is witty.  Only… please, whatever you do, don't tell me that I was supposed to find it funny.  Please don't tell me that.  I've heard it called a 'screwball comedy' several times.  Really?  Has anyone who is saying that actually seen a screwball comedy?  Let me break it to you gently, fanboys:  screwball comedies are funny. Sometimes they're actually downright, fall-around-laughing hilarious.  What they're not is the kind of baloney where you sit there, stroking your chin and feeling superior because you have worked out the brilliant subtlety of a joke.  Anyway, you can forget about that as far as this is concerned because there isn't one single funny line in it.  Not one.  Unless I was asleep when it was uttered, which isn't outside the bounds of possibility—and not because I'm on old fogie either, smart asses!
Because it's set in some fictional European country that always seems to be getting invaded there may be the faintest nod to Duck Soup.  If that was intentional then it was a really bad idea, because all that does is remind you of how bloody great the Marx Brothers were.
Now, it is apparently based on the stories of Stefan Zweig.  Oddly, I had never heard of him until this week when I came across a mention in a Kubrick biography I'm reading.  So now I've heard of him twice. Maybe if his name comes up a third time so will my lottery numbers.  I have to say that it made him sound a lot better than he comes across here, so I'm going to hope that Anderson and his co-writer Hugo Guinness have just messed things up; I can't say that would come as much of a shock.
Very briefly, it's told in flashback to 1932 where Monsieur Gustave (Ralph Fiennes) is working in the hotel of the title as a sort of mix of the perfect concierge and the perfect gigolo.  He takes a young lobby boy Zero (Tony Revolori) under his wing and they both become involved in art theft after one of Gustave's wealthy clients pops her clogs and shuffles of into the Night Eternal…and that leads to Gustave being locked up for murder.
What leaves me (relatively) speechless is the staggering amount of really good actors that Anderson has been able to assemble.  The guy must be respected by his peers, that's for sure.  I'm talking about cameos from the likes of Adrien Brody, Willem Dafoe, Jeff Goldman, Saoirse Ronan, Edward Norton and F.  Murray Abraham.  The great Harvey Keitel turns up in a role that I can only describe as embarrassing and as for Bill Murray…
Bill frigging Murray?  How is it possible that I didn't even see him?  Was I asleep again?  No, I couldn't possibly have been because THAT BLOODY ENDLESS ZITHER MUSIC WAS DRIVING ME UP THE SHAGGING WALL!
Ok, young 'uns; don't say it.  Time for my cocoa and the comfy slippers.  It's half-past nine and 'way past my bedtime.  Wake me when the brilliant Wes Anderson has another film out.
On second thoughts, don't bother.