The Return of Lisbeth Salander?
The Girl in the Spider's Web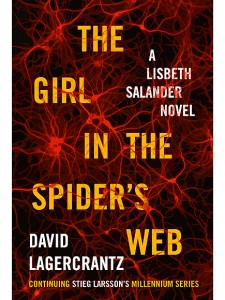 She is the woman who hates the men who hate women.
She is the last word in antisocial behavior and the possessor of genius-level computer skills as well as a photographic memory that helps her in her chosen field of 'hacking'.
She's tough; she's relentless; and boy, does she like to eat Billy's Pan Pizza.
She is, of course, Lisbeth Salander — one of the most original female anti-heroes in literary history; and I've been in love with Salander since meeting her in The Girl with the Dragon Tattoo and the other two books in Stieg Larsson's Millennium trilogy.
In a horrible twist of Fate Larsson had just handed in the three manuscripts to his publisher before he suffered a heart attack, never living to see how phenomenally successful his brainchildren in the forms of Salander and the driven journalist Mikael Blomkvist were to become.
So when he died in 2004 the series in effect died with him.
But now Lisbeth Salander is back.
Or is she?
Well, on the evidence of this new novel from David Lagercrantz — the writer chosen to continue the saga — she and Blomkvist have either had personality transplants or else the action here is taking place in some kind of parallel universe.  And given the near-science fiction (not to mention comic-book) feel to the entire proceedings, that may well be what is happening.
Or maybe it's just that Lagercrantz is nervous about tackling such an insanely popular and iconic figure, since he barely features her for the first 200 pages.  In which case, perhaps they should have gotten another writer to take over.
This time around, instead of the highly emotive issues of the original trilogy, with its themes of trafficking and violence against women – which were so effecting simply because Larsson felt as passionately as his characters do — we get a story that takes in Artificial Intelligence and corruption within the American National Security Agency, as well as an eight-year-old savant who is being hunted by a group of killers.
And most bewilderingly, Lagercrantz gives Salander a back story in which she has apparently always identified with Janet van Dyne, the Wasp from the Marvel Comics'; and she is faced with a band of enemies who call themselves the Spider Society and use the names of super-villains who have been enemies of the Avengers!
In fact, her twin sister is the possessor of a sort of ability to seduce those of both sexes that I can only liken to a bloody superpower.  I suppose you could call the sister Salander's nemesis and the Spider Society, her henchmen.  It's got that feel to it.
If you can accept that load of old rubbish then you're a better man than me – and I'm someone who loves comic books.
I'm sorry I didn't know a bit more about the whole unsavoury background to the writing of this book before I read it – because I wouldn't have.
Larsson's will had never been witnessed and as a result of this his partner of many years (whom he had never married) ended up being treated abominably by Larsson's father and brother, who he doesn't even seem to have had contact with, but who under Swedish law inherited his estate anyway.  They also claim all royalties from his work.
I don't feel like going into the sordid details at the moment.  Perhaps some other time.
However, I find it ironic that Mr. Lagercrantz has accepted the family's invitation to continue the exploits of two fictional characters that operate from the highest moral ground, when just by accepting the job he is doing something that these two would never have done.
In any case I won't be reading any more of his chronicles about this fake Blomkvist and Salander.  If I'm having withdrawal symptoms I'll just re-read the original trilogy.
Don't mess with the classics.