Gardens of Fear
The Weird Works of Robert E.  Howard, Volume 6
Edited by Paul Herman
Part One
These ongoing pieces are overviews rather than reviews and therefore contain spoilers galore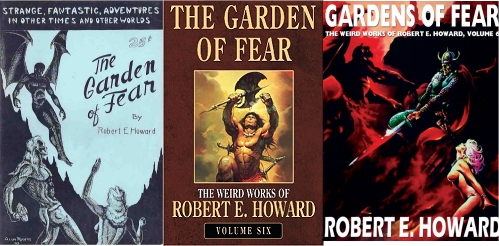 By May of 1934 and having already published eight tales of Conan the Cimmerian to considerable reader approval, it was obvious to Weird Tales editor Farnsworth Wright that with Robert E.  Howard's barbarian he had something of a tiger by the tale, although of course no one could have predicted just how popular the character would eventually become.
And so in that month he had no hesitation in presenting the ninth tale in the saga and a firm fan favourite – Queen of the Black Coast.  And let me swiftly add that it is not one of this fan's favourites.  Not even remotely.
The Cardboard Woman with Permanent PMT
It starts off well enough, with Conan finding himself amongst the pirates of the Black Coast (the Hyborian Age's equivalent to the West Coast of Africa), who are led by a Shemitish woman whom they revere as a Goddess.  This is Bêlit, who a still relatively young Conan falls in love with – possibly the only true love of his life.  There is also an engrossing exchange of dialogue between the two where we learn something of the Cimmerian's attitude towards his cold Northern deity, Crom:
"He dwells on a great mountain.  What use to call on him?  Little he cares if men live or die.  Better to be silent than to call his attention to you; he will send you dooms, not fortune!  He is grim and loveless, but at birth he breathes power to strive and slay into a man's soul.  What else shall men ask of the gods?"
The grim clarity of this is far outweighed, however, by the frankly embarrassing pronouncements of Bêlit, especially coming up to her teeth-curling mating-dance, which honestly made me cringe.
I get that this is an important period in the Cimmerian's life as he probably sails the Black Coast for at least a couple of years, but it's all just too compressed.  As I've often noted, writers like Howard and Edgar Rice Burroughs could tell a story in thirty pages that some modern tale-spinners would spend a lengthy volume on; but in this case it's just too much.
And I have a real problem with Bêlit herself.  If you can manage the huge mental leap that will let you see her as anything other than a two-dimensional cardboard prop then it will unfortunately only be to discover what a sour, greedy and cold-heated bitch she is.  And as a result of her utter callousness towards her loyal crew Conan considerably drops in my estimation into the bargain, simply by virtue of his not raising an objection.
In fact, considering that by this stage we had gotten used to an exaggerated depiction of the ultimate Alpha-male, it's quite a surprise to realise that he's coming across as more than a teeny bit pussy-whipped by the perpetually pissed-off Bêlit.
And yet more than one writer and essayist has found her fascinating enough to do an extensive back story to the character.  So in this case I'm willing to concede that perhaps it's just a matter of personal taste that makes me view this as one of Howard's worst stories in quite a while; but I am willing to make no such concessions for the short story that appeared in the next issue, for May.
No Place to Lose Your Howard Virginity
Oh boy – deep breath and let's get this one out of the way as quickly as possible because, knowing my luck, after years of raving to people about REH, some Howard virgin will decide to start with this stinker and whatever bit of reputation I have will be down the Swanee.
The Haunter of the Ring is a contemporary tale, although since the Ring in question is the one worn by Thoth-amon in very first Conan story, The Phoenix on the Sword, it ties in to Howard's wider, interconnected mythology.  And that is the story's single saving grace.   The dialogue is appallingly clunky; the elements of coincidence simply beyond any kind of hope that the most willing suspension of disbelief can give; and the prose itself is completely diabolical.
And of course, yes, I know that Howard was — in the final analysis — writing pulp fiction for monetary gain, not literature for Artistic approval.  I suppose it is just that I had at this point become so used to him turning out such wonderful work, even when writing at breakneck speed, that it is a shock to come across this.   And this is probably one of the very worst of his stories ever to appear in the Unique Magazine.
The next tale in this collection appeared in Marvel Tales for July-August of 1934 and I find The Garden of Fear something of an oddity.  As the previous two stories in the James Allison cycle (Marchers of Valhalla and The Valley of the Worm) were so exceptional it is also something of a disappointment.
Once again Allison recalls an existence as a sort of super-Aryan warrior, this time Hunwulf the Wanderer who is on a mission to rescue his mate, Gudrun.  There are some startling images such as the lone winged survivor of an ancient, demonic race brooding in a tower that is set amidst a field of man-eating blooms.  Yet the whole thing seems too rushed, as if it was a first draft.
Perhaps it was.
Meanwhile, back home in Weird Tales the month of August also saw yet another Conan story, The Devil in Iron.  Again the Cimmerian is the leader of an outlaw band and again we are on the Vilayet Sea and again there is a voluptuous hottie in need of rescuing.
And here I have to hand it to Conan.  As chat-up lines go it would be hard to beat "I'll burn Khawarizm for a torch to light your way to my tent". 
It's a serviceable and enjoyable enough tale, but at this point, as the tenth Conan story, there is also a feeling of sameness that is not helped by similarities to previous tales such as Black Colossus and Iron Shadows in the Moon, amongst others.
However, if WT readers thought that the mighty barbarian was almost played out they must have changed their minds right back again pretty sharpish.  Because the novella that ran through the September, October and November issues of 1934 was nothing less than a masterpiece – The People of the Black Circle.
Not only that, but it would be followed by one of the most visually dramatic of all his stories—A Witch Shall Be Born, which featured the crucifixion of Conan.
I'll be looking at these two works of wonder in the next review – same Conan-time; same Conan-channel!