Flight Behaviour by Barbara Kingsolver
Butterfly Mornings:
Flight Behaviour
by
Barbara Kingsolver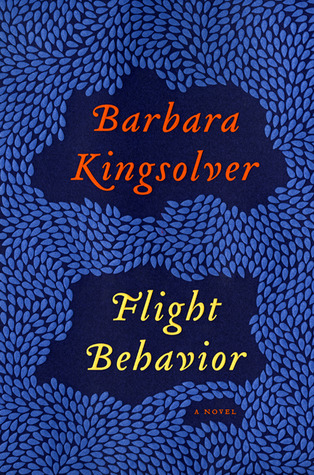 I'm a great admirer of Barbara Kingsolver's work and yet only this week got around to her latest novel, Flight Behaviour.  As usual, though, it didn't take much more than a few pages for Barbara to draw me into her fictional world (and why do we fans think of her in first-name terms?). This one is set in the small town of Feathertown in the Appalachians and introduces us to the wonderfully named Dellarobia Turnbow.
Dell is a twenty-seven-year-old redheaded Tennessee beauty, at a crossroads in her life.  She is in a stale marriage to the dim-but-nice Cub, who she became pregnant by at seventeen.  That baby died, but two more children followed, both of whom the parents dote on.  They are pretty much dirt-poor but soldier on, being always made to feel beholden to Cub's awful parents.
It would almost be a blessing if Dell was as unimaginative as her stolid husband, but in fact before her misfortune as a teenager she had her sights set on a further education.  She is smart and she is funny; she is also frustrated because she knows that there is something else out there.
She is about to look for that in a way that she will without doubt regret:  by embarking on an affair with a younger man, one who is really only into the chase, unbeknownst to Dell.   Mercifully, she is stopped as she sets off (crucially, without her glasses) to meet her would-be lover.  As she approaches the top of the hill to where she's headed, Dell has what she can only imagine is a vision:
"Brightness of a new intensity moved up the valley in a rippling wave, like the disturbed surface of a lake.  Every bough glowed with an orange blaze.  'Jesus God', she said again.  No words came to her that seemed sane.  Trees turned to fire, a burning bush.  Moses came to mind, and Ezekiel, words from Scripture that occupied a certain space in her brain but no longer carried honest weight, if they ever had.  Burning coals of fire went up and down among the living creatures."
This passage is important because right here near the opening of the novel we see that there will be allusions to the Bible throughout; everything from lakes of fire to Noah and the Flood.
What Della has in fact seen is an unprecedented migration of Monarch butterflies.  They have been transplanted to the far Appalachians because of enormous mudslides and flooding in Angangueo in the Mexican mountains.  (This catastrophe did in fact take place in February 2010.)  This is to prove not only crucial to Della's development as a human being but also to the town, as eco-warriors, media people and scientists descend on it.
I love this book, even though as it develops into a parable on the ecology and on climate change, I am one of those whom the butterfly expert that Della meets, Orvid Byron, is railing against.  I'm just not sure that I buy everything I'm handed on that particular subject.  For the purposes of enjoyment of this novel, though, that's neither here nor there.
Della is very reminiscent of Taylor Greer, the loveable and impoverished lead in Kingsolver's brilliant first novel The Bean Trees; and that's OK with me because I've been missing Taylor.
It may just be a little on the long side, but for me Flight Behaviour is another lovely addition to the Kingsolver canon.