Dawn of the Planet of the Apes
(2014)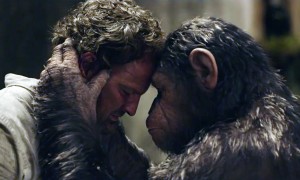 It's pretty unlikely that Pierre Boulle would be a swiftly recognized name down at your local watering hole.  Yet film enthusiasts are indebted to the French writer for at least two reasons:  one is that his 1952 book The Bridge over the River Kwai would become the David Lean classic of almost the same name; the other is that his 1963 science fiction novel Monkey Planet was to be adapted as the staggeringly successful (and award-winning) 1968 film Planet of the Apes, directed by Franklin J.  Schaffner and starring Charlton Heston in one of that actor's many iconic roles.
I wonder did Boulle see much in the way of returns from what was to become a truly lucrative franchise in its day–and now once again, several decades on.
From the original outing through Beneath the Planet of the Apes, Escape from…, Conquest of… and Battle for… I practically came of age as I followed these movies through to 1973, at which point 20th Century Fox had taken complete control of the rights.  The flame had burned bright and was fading by then but in the meantime we had seen a TV series, a comic book series, several modeling-kits and a whole new career for likeable, offbeat former child star Roddy McDowell.
There was a well-intentioned, under-rated and very badly received attempt to reboot in 2001 with the normally dependable Tim Burton at the helm.  However, that one went nowhere and the franchise looked to be dormant until 2011 when a second reboot literally burst on the scene in the form of Rupert Wyatt's stupendous re-imagining, Rise of the Planet of the Apes.  This time around not only had the new technology being used made for staggeringly realistic talking apes, but the screenplay by Rick Joffa and Amanda Silver had the right mix of non-slavish respect for the original conjoined with a real emotional depth and just the right amount of action to keep everyone happy.
It was an unqualified success.  So if I tell you that director Matt Reeves has made the previous film look like an appetizer whilst his Dawn of the Planet of the Apes comes roaring in like a sumptuous, filling and satisfying main course you'll get an idea of just how good this sequel is.
Mark Bonback is at the head of the screenplay credits this time around, with Joffa and Silver also there as well as co-producing; and they decide to pick the story up ten years later, after the viral concoction that made the apes smarter had the unfortunate (actually I'm ambivalent about whether it was) side-effect of wiping out almost all of humanity.
Family Values and the Territorial Imperative
During the film's first utterly engrossing twenty-odd minutes we see how the apes have created their own well-run township in the Muir Woods, outside San Francisco.  As we open with a deer hunt we might also be reflecting that the Bambis of the world must be wishing that their old enemies in the form of humans were back.  Let me tell you, these apes are organized.  Under Caesar (Andy Serkis) they live an existence free from the constraints that had been previously put upon them by Man, which species having become almost mythical to the younger generation, not even having been sighted in two winters.
As we follow the apes at work and play, communicating by sign language (their human language skills are kept to a minimum for the moment), I almost wished that someone would make a pseudo-Discovery-type documentary on them; that is how fascinating this first part is.
Soon, however, the human survivors are encroaching on the apes' territory, since they have a need for electrical power Caesar's tribe don't share and they have to be able to work on the abandoned dam.
Can man and animal learn to live and work together?  There are heartbreaking moments when we want to see this coming true.  There is a scene, for instance, when engineering supervisor Malcolm (Jason Clarke) and his partner Ellie (Kerri Russell) are playing with Caesar's newborn.  It is a charming moment that soon descends into terror, thanks to human stupidity.
Then there are the fabulous images where the wise, giant orangutan Maurice (Karin Konoval) and Malcolm's son, Alexander (Kodi Smit-McPhee) are reading together.
These moments are emotionally-laden precisely because the effects used to make the apes come alive are so cutting-edge.  Andy Serkis, of course, is an old hand at this kind of thing after his unforgettable outings as Gollum and Kong; but also to be noted are Toby Kebell, frightening as the renegade Koba; Nick Thurston as Caesar's son, Blue Eyes; and—incredibly—Judy Greer as Cornelia, Caesar's wife.
It's not just the astonishing range of expression on their faces, even in repose; it is this feeling of weight that they carry with them.  Although I had one moment of doubt at seeing Maurice on horseback.  Would a horse be able to carry him?  I don't know enough about that to comment.  However, on that subject, do you recall one of the most breathtaking visuals from Rise—it was when Caesar rides out of the smoke of battle on the Golden Gate Bridge…on horseback?  In Dawn we see this so often and so casually that we should eventually be taking it for granted…but we don't. This is cinema magic at its finest.  And Dawn is filled with sequences of utter visual beauty.
To be honest, the humans are left in the halfpenny place after all that.  In fact, Gary Oldman's performance as the human leader Dreyfus amounts to little more than a cameo.
Some big, big themes are tackled here—some critics have even used the term 'Shakespearian'. And I can see their point, to be fair. Whatever your opinion on that, however, there's no doubt that Robert Ardrey's theory of the Territorial Imperative is being examined.  (Come to think of it, surely those involved were pushed to pick up a copy of that anthropologist's African Genesis.)  For me, though, it was the theme of Family.  Of Loyalty to Blood and what that means.  And even should it mean anything?
It was there in Rise of course; but it is here in Dawn in spades; and Caesar's problems with his son will be recognised by many a man in the audience, I'm sure.  With the humans, it is even more poignant, since all of them have lost their blood families.
I have to make a special mention of the splendid soundtrack from Michael Gracchino. It is a beautifully judged piece of work.
And as the film drew to a close I wondered how they would top those final shots in the previous film when the apes, high in the trees, survey their new world.
Well, this closing image may not be quite that dramatic, but let me tell you, it is pregnant with the feeling of what the future holds; and it left at least this sappy viewer with a great big lump in his throat.