Daredevil:
Love and War
Down from the Attic: 3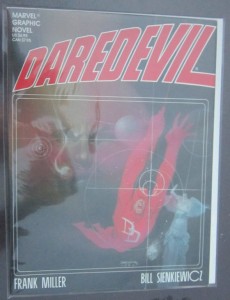 I'm the first to admit that I'm well out of the loop on what's happening with modern comic books; but Good Lord, what the hell put the zap on writer Frank Miller's head?  I looked up a recent interview just after finishing this Golden Oldie and he both looks and sounds like he has the fried brain pan of somebody who has had some serious substance abuse issues in recent years.
Then I looked at a photo of artist Bill Sienkiewicz at a 2011 convention and here we have a very handsome, clean-cut looking guy.  Funny thing is that if you know Sienkiewicz's gorgeous but very skewed and willfully strange work, then he's the guy that you would expect to look spaced-out of it.
There's only one year between these men in their late fifties but you would never know it.  And Miller's ravaged looks and shaky demeanor are reflected in the last thing that I read of his – The Dark Knight Strikes Back, which he both wrote and drew — and I – did – not – know what — the hell — to make of it!
Back in the mid-eighties, though, I couldn't over emphasise how important Miller was.  If you weren't around, you have simply no idea how it felt to pick up The Dark Knight Returns for the first time.  About as far from Adam West and Julie Newmar as could be imagined, this was what adult superhero fans had been waiting for.  It was dark and gritty and basically Dirty Harry in a cape, so far to the Right that it had fallen off the margins.  It was an electrifying time to be reading comic books.
Unfortunately, although it never bothered me in the slightest, it wasn't quite the done thing for grown-ups with straight jobs to admit that they liked looking at characters who had word balloons coming out of their heads.  So the Powers-That-Be had the bright idea of slapping the title 'Graphic Novels' on them.
Well, they weren't any kind of novels.  That would imply length and depth of scope and characterization.  And the series of slim volumes being produced by Marvel weren't even really short stories – they were just big comic books.  They had a little over 60 pages and because they weren't Code-approved there was bit more sex and violence, generally unnecessary but put there so that they could pretend to be 'adult'.  And that was about it.
God, there were some real beauties back then.  I still cringe when I remember parting with good cash to buy Dazzler; but a title that was actually very good was Daredevil:  Love and War by Miller and Sienkiewicz.
Before his stint with Batman, Miller had revived the character of blind attorney Matt Murdock, who had found the sales of his alter ego's comic so bad that he had gone bimonthly and was about to shuffle off to the Home for Retired Superheroes that No One Loves Anymore.  Along came Miller – young, eager and at the height of his powers and determinedly breathing the same gritty urban warrior life into old Double-D that he would later do to the Dark Knight.
One of the many strokes of genius that he had was turning Wilson Fisk, the Kingpin of Crime, into a flesh-and-blood character, almost as important to the series as Daredevil himself.
This all came back to me as I read this 1986 work for the first time in decades.  In fact, what I hadn't noticed the first time around was that in a lot of ways Fisk/Kingpin is the tragic hero.  Daredevil is peripheral (in the way that Max was in Fury Road).  In fact, I'm not even sure I liked the guy here all that much.
Fisk is attempting to bring his wife Vanessa – possibly the only human that he has ever loved – out of an emotionally-induced coma whilst also dealing with a renegade junkie henchman called Victor at the same time.
Miller's fragmented prose is suited perfectly to Sienkiewicz's luscious artwork, which quite frankly would wear out the superlatives.  Even then it was a million miles from standard costumed hero fare and I wonder now how it was received.
These two were in no way interested in action; at least not in the conventional kind.  To give one example:  Daredevil, who has always been a great man for putting out of business the poor owners of underworld hangouts, goes into Josie's Bar + Grill:
"It's a nightly hangout for the worst New York has to offer.  Josie only wants peace and quiet.
"She's never very happy to see me.
"Neither are the rest; through a wave of cigarette smoke and cheap booze I smell the sudden fear in their sweat…  Their heartbeats jump – except for one guy in the back with a pacemaker – shirt cloth rustles –metal slides from leather holsters –bullets tumble into place – hammers pull back –"
Were this a conventional super hero comic of the '80s we would have turned the page to a dose of *Pow!* and *Ka-bang!* action; instead we're assaulted by one of Sienkiewicz's stunning full-page psychedelic midnight sunbursts, with the Devil vaulting over a tram and taking straight off like frigging Superman.  Under Sienkiewicz's stylized layouts (it's amazing how fast you learn to spell Bill's name) he's all bull neck and bulging shoulders.
As for the Kingpin, the word 'huge' simply doesn't begin to describe him:  he is impossibly, ridiculously and inhumanly enormous, his gigantic waistcoat somehow almost drawing the eye from the tiny head on top of the mass of flesh.  We've never been so aware of the highly cultured man inside the grotesque body and feel sympathy and terror in equal measures at this monster who can calmly order executions whilst mourning the loss of a crystal ornament.
Yes, I'm really glad this one found its way back to me:  a terrific walk down Memory Lane.
Next from the Attic:  Promethea