The Chronicles of Conan
Volume 2:
Rogues in the House
And Other Stories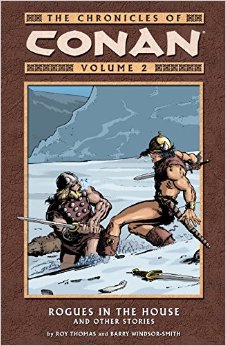 By the time that issue #9 of Conan the Barbarian came along, writer Roy Thomas and artist Barry Windsor-Smith had settled into being a very tight team indeed.  The difference between The Garden of Fear and that now primitive-seeming debut issue is vast, both in artwork and storytelling. Here Thomas (as he was to become increasingly adept at doing) adapts one of Robert E.  Howard's non-Conan tales.
Making their way back through Corinthia, after having fallen foul of the law in Nemedia, the Cimmerian and the beautiful, deceitful Jenna of Shadizar find themselves in the rugged mountain range of that country.  Here Conan is welcomed as one of their own by a savage hill-tribe and the scene of him dancing with them at a feast is a delight—as well as a reminder of how 'uncivilized' he is.
Windsor-Smith is really given his head in this tale and rises to the artistic challenges admirably, with some truly stunning silent panels (which were still rather novel in the early seventies).  He and Thomas –not for the last time—find rather ingenious ways around the restrictive Comics Code that was then so stifling in mainstream work.
When they arrive in one of Corinthia's many city-states for #10's Beware the Wrath of Anu he is reunited with Burgun, who we had last seen in lost Lanjau.  The two become friends as well as master thieves who torment the authorities of the city.  So much so that Burgun finds himself dangling from the end of a rope (quite shocking back then in its depiction).
The inclusion of Burgun is another clever example of working throwaway elements from Howard into a satisfying and cohesive whole…and also acts as a nice introduction to Rogues in the House, which is, strictly speaking, one of the few (only?) original Conan stories not to have supernatural overtones.  They made this issue, the eleventh, an extra-long one and it is quite simply outstanding. Jenna of course has by now returned to her duplicitous ways and in revenge for betraying him Conan drops her from a height into a giant pool of shit.  It's a scene that still makes me laugh.  If only all problems with women could be solved in this way. (Just joking.  I think.)
The extra pages left Smith with a problem time-wise as regards how much he could illustrate whilst keeping to his high standard; and so #12, The Dweller in the Dark, is a much slighter work.  It is still good, though; and again the two are pushing the boundaries.  Smith's art work is quite sleazily erotic in its depiction of a near-naked Queen Fatima ("I was tired of the old hag anyway", says the charming barbarian); and Thomas having Conan deliberately throw her to the Dweller in the Dark is to my mind very much in keeping with Robert E. Howard's portrait of the Cimmerian.  I never really got the idea that grew up in the pastiches by less talented writers that this guy had 'a code of honour never broken'.  It's quite obvious even in the comic-books that he's a blood- mad, murderous psychopath.  Still, I know that a lot of enthusiasts don't want to see that.
For #13 and Web of the Spider-God Thomas asked for the plot to be written by John Jakes, who was then making a name for himself with a blonde Conan-type hero in the form of Brak the Barbarian.  At the end of Rogues Conan had made it clear that he was on his way to western Argos and the sea, but here he drifts back into Zamora.  Incidentally I would count this as the fourth comics tale with non-supernatural elements, following on from Lair of the Beast-Men, Devil-Wings over Shadizar and Rogues in the House.  In the first we have evolved apes; in the next two we have what are essentially a giant bat and a giant man-ape respectively; here we have a bloody great spider, one that even that fella at the top of Jack's beanstalk would have a problem flushing down his bathtub.  Never mind; our barbarian hero dispatches him to that great web in the sky in double-quick time.
For reasons that Thomas explains in his excellent afterword, issues #14 and #15 were put aside for reprinting in the third volume and we jump forward to #16.  This was in fact a reprint in colour of a Conan story from Marvel's attempt to enter into competition with Warren Comics' very successful black-and-white range of more graphic magazines, Savage Tales #1.
Staying fairly close to Howard's original it is the very problematic The Frost-Giant's Daughter.  Both in Howard's original and in the adaptation there's no getting around it, fanboys:  our hero was intent on rape.  Tell me again about that 'fighting man's code never broken'.
Chronologically it takes place before the events of issue #1 but after the barbarian's baptism of blood at Venarium.   And talking of which, despite my reservations about the age of Conan in volume 1, Thomas has now settled down to the more-or-less accepted chronology—which would put the events in this volume as taking place at around Conan's 19th and20th years.
This is another excellent addition to the canon and once again, with the fully restored text and remastered colour these stories look even better than they did in 1971 and 1972.