"What's the matter? He run out of ideas or something?"
    "He ran out of luck."
—Smoke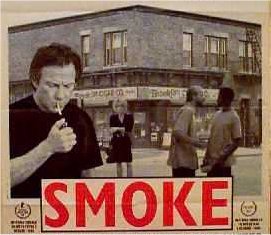 A couple of weeks ago a package arrived containing an early Christmas gift.  When I opened it I was truly taken aback.

It was a beautiful, slim little volume from Faber and Faber, written by Paul Auster and delicately illustrated by someone called Isol.  It is a thing that is both lovely to look at and to leaf through, sent by a good friend from Dublin, a film teacher called Robert Quinn. The book is Auggie Wren's Christmas Story and is as touching a gift as I've received in many a year.

You see, it's a long time since I've seen Robert but on opening this most unexpected package I was instantly taken back some seventeen years to one evening when Robert and I went to the Irish Film Centre in Dublin to see a quiet little movie called Smoke (1995) and which left both of us thinking that we had just seen something that was quite special.

[pullquote align="left"]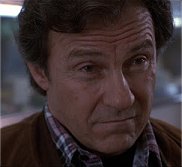 Harvey Keitel plays the part of Auggie wonderfully.[/pullquote]   Written by the New York author Auster and directed by Wayne Wang, Smoke is set in and around Auggie Wren's shop, the Brooklyn Cigar Company.  This is the centre of Auggie's (Harvey Keitel) existence and it deals with the various characters that come in and out of it; and that's about it.  You could say that it is one of those movies where nothing much seems to happen…except that everything happens.

One of those characters is Paul Benjamin (William Hurt), a writer who has hit a block after the killing of his wife and unborn child outside the store.  A quietly damaged man who is unable to move on properly, Hurt plays him with a deep pathos that never becomes cloying.  He may carry sadness with him but he is also a complete person:  thoughtful, irritable, essentially solitary; and essentially decent. When his life is saved after he almost walks absent-mindedly into traffic by a young black man from the Projects, Rashid (Harold Perrineau Jr.), he takes an interest in the boy's affairs.  A bit of a fantasist, to put it mildly, Rashid is looking for his estranged father, Cyrus, played in typically excellent form by Forest Whitaker.

But the heart and soul of events is Auggie Wren, the tobacco-selling philosopher.  As he tells Paul, he may be a guy who pushes change across the counter, but that's not who he is.  For the many people who judge instantly by appearances, that's not a bad statement to keep in mind.

Auggie is content with his place in the world and the reason, as he tells Paul, that he hasn't been able to take a vacation in four years is because he has to be outside the shop at exactly eight o'clock each morning to set up his camera and take one photograph. The same thing every morning, but different every time:  "It's just a little part of the world, but things take place there too."

However, Auggie finds his existence rocked a little by the reappearance of an old girlfriend, Ruby (Stockard Channing) who drops it on him that 'their' daughter is in a lot of trouble—pregnant and fighting a crack habit.  Well, maybe she is his daughter and maybe she isn't, but Auggie certainly is sceptical.  He's a good sort though and so he meets up with Felicity (Ashley Judd).

Man, what a cast; and every one of these actors is at the top of their game here. It's a true ensemble piece and even Hurt, who I can sometimes find a little mannered in his performances, is just about pitch perfect.  Forest Whitaker's Cyrus is also a damaged man, both physically and mentally but whereas in a film less sure of itself that might be all there is to him, here we again get a whole person.  Cyrus is also exuberant, quick to anger and kind.

Ruby could be just another hard-faced woman on the make and Felicity a stock junkie, but as played they are both so much more than that.

And even the peripheral characters are totally believable, be it Jarred Harris as the slow-thinking store sweeper, Giancarlo Esposito as the motormouth sports fan or Mel Gorham as Auggie's excitable girlfriend.

As for the Brooklyn setting…look, I've never been there so it could be as semi-mythical as Innisfree in The Quiet Man or the phantom village in Brigadoon; hell, it may be no more realistic than Notting Hill, but just like those movies it's real enough for me.

That's it: a lot of different characters weaving in and out of each other's life and along the way we get stories within the stories on the nature of time, of writing, of regret, of smoking and of sheer random chance.  (Auggie contemplates how Paul's wife was just in the shop before she met her death. What if she hadn't given him the exact change, what if the place had been a little busier?)  And all of this is handled with a deft and sure touch that is never boring and always satisfying.

And Auggie Wren's Christmas Story? Ah, that's the most satisfying of all.  And whether or not it's true doesn't even matter. It's hard to tell from Auggie's face which, considering these are Harvey Keitel's rough-hewn features, looks almost cherubic here. Even better, we get to see it played out to a background of the marvellous Tom Waits song Innocent When You Dream [see below].

It's a nice place to end things, because, set in 1990, Auggie knows that his own particular world is closing down.

"…they'll legislate us out of business pretty soon, anyway. Pretty soon they catch you smoking tobacco they'll line you up against the wall and shoot you. Tobacco today, sex tomorrow."

Auggie, it's all coming true.

And Robert, this little review is for you. Thanks for the walk down Memory Lane and have a very merry Christmas.

 

 [media url="http://www.youtube.com/watch?v=Md7iv0Rg1LU" width="600″ height="400″]

 

This isn't the version of Innocent When You Dream by the great Tom Waits that appears in Smoke; but it's just odd enough that I wanted to include it anyway.  Looking forward to seeing him in Seven Psychopaths!