Anno Dracula 1899
And Other Stories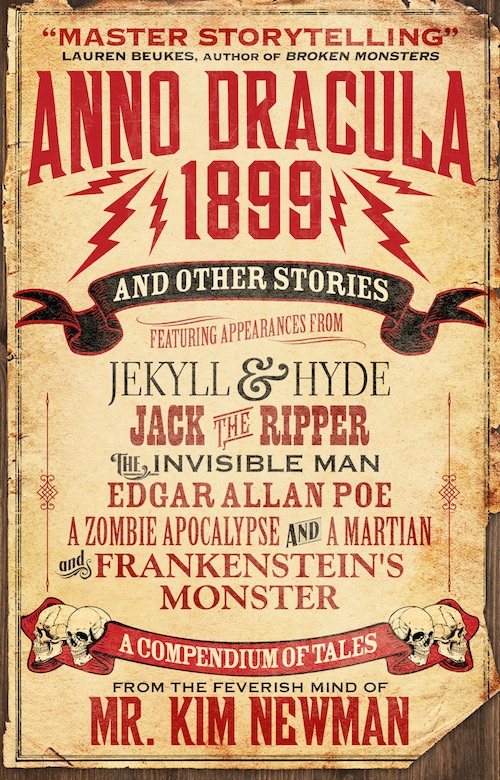 Buried deep within this grab-bag of odds-and-ends from the wonderfully eccentric Mr. Newman is a story so exquisitely beautiful that it is worth buying this collection for alone.  But I'll return to that later because, sadly, Anno Dracula 1899 and Other Stories is in most other ways a bit of a con.
I was under the impression that it was a volume of uncollected tales that were set in the Anno Dracula universe – well, the title would kind of give you that impression, don't you think?  — and I don't really see anything in the back cover blurb that would contradict that, with its talk of Jekyll & Hyde and of Jack the Ripper, the Invisible Man and company.  At best, it is a bit on the slippery side, to be honest.  And the front cover is identical in tone to the rest in the Anno Dracula series.  Ergo…?
So yeah, I'm going to go with sensing a reasonably benign con job on behalf of the publishers Titan Books whilst giving Kim Newman the benefit of the doubt.  After all, if you're a Newman fan you will want this.
Just be warned, that's all.
I was half-way through the opening tale, Famous Monsters (which features an alien refugee from the Martian Wars who is working as an extra in B-pictures – it's that kind of collection) when it dawned on me that not even with a hammer could you fit this one into AD continuity.  In fact, the stories are reprints from such diverse publications as Interzone, Poe and Sherlock Holmes Mystery Magazine, not to mention a couple of audio pieces (One Hit Wanda and Sarah Minds the Dog) and part (!) of a play —Frankenstein on Ice — that I could seriously have lived without.
Mind you, I rather liked the idea of the Frankenstein Monster being found in the Arctic thanks to climate change; and of that find being compared to coming across the bones of Moby-Dick.  From which you'll see that Mr. Newman is having a rare old time with his customary habit of mixing-and-matching various icons from literature, pulp and otherwise, with reality.
This works particularly well with his lovely tribute to the late, great Charles L. Grant.  The Chill Clutch of the Unseen is an affectionate continuation of Grant's tales where he brought in classic Universal monsters to the lives of the people of his Oxrun Station.
Ubermensch! is a surprisingly moving look at a Man of Steel whose rocket ship deposited him, not in Kansas, but in Germany; and who assisted Hitler during his extermination of the Jews of Metropolis – the Metropolis of Fritz Lang's silent classic, that is.
And Coastal City is a wildly imaginative look at the city of New York which has been transformed over the years by the superheroes and supervillains who have been drawn to it – quite literally, eh…drawn.
In even more manic vein is the deliciously head-wrecking Completist Heaven in which a supernerd comes across a previously unheard-of B-movie called Frankenstein meets the She Wolf of the SS.
The Glenn Strange Frankenstein teamed up with Ilsa the SS She-Wolf's unfeasibly large breasts?  What sad old bloke could resist such a combination?
So…some tales work and some, perhaps, not so much.  It is what I said at the top:  a grab-bag of bits-and-pieces that you may not have seen before.  And it's really of interest mainly to die-hard Newman-heads who want a little of their own Completist Heaven.
Even the final, title tale — Yokai Town: Anno Dracula 1899 is in fact simply a twenty-page introduction to a  soon-to-be-released novel.  Set eleven years after the events of the first AD novel, it is almost insanely imaginative; and not being too up on the vampire cinema and literature of the Orient, I'm sure I missed more references than I normally would.  It ends with the intriguing caption:  To be continued in ANNO DRACULA 1999:  DAIKAIJU.
From all of which you can see that this 2017 collection could be a frustrating one for those not familiar with Newman's work.
However, I promised that I would mention the superb little piece that made it all worthwhile for me.  Called The Snow Sculptures of Xanadu it is — at barely six pages — utter perfection and a thing of icy beauty.  It follows a version of Orson Welles as he revisits the enormous estate of Charles Foster Kane.  In the forties he had been commissioned to make there a docu-drama – American – that would confirm his reputation as the Boy Wonder.  It wasn't to be, however, and what follows is a short meditation on loss and wasted talent.
For The Snow Sculptures of Xanadu alone, I doff my imaginary hat to Kim Newman.