Anticipating Jerusalem:
Alan Moore's
Voice of the Fire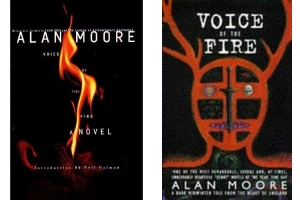 Alan Moore is a phenomenon.
Although I don't read him as religiously as I once did, the man himself – and his astonishing talent with words! – has fascinated me since I first 'discovered' him at the helm of the re-imagining of Swamp Thing in the 80s.
I also admire him for the manner in which he has maneuvered himself into a position where he can afford to live just as he pleases (in his case with a certain amount of reclusiveness) and say exactly what he feels like.  And he generally speaks sense – at least it is his sense.  I've dipped in to interviews over the years and always take something away – even when it's not necessarily something that I agree with!
On my wavelength he has for the last number of years been trying outings into and exploring the H.P. Lovecraft mythology – and some of those experiments have been dark and ugly indeed;  but with varying degrees of success they have always been brave, unflinching and really deserve an article all on their own — when I get around to it.
Of course, he is probably best known as the author of such brilliant comic book works as Watchmen, From Hell and The League of Extraordinary Gentlemen – to name a very few – and for the film adaptations of his work, most of which he either disowns or doesn't bother seeing.
(And to sound a dissatisfied note here:  I will never understand his distancing of himself from the John McTeague-directed V for Vendetta.  To me, this Wachowskis-scripted film is a stone cold masterpiece, almost defying categorization in its terrifying and yet strangely uplifting depiction of a fascist future that seems more and more to be just around the corner.  It is one of my favourite films.)
Now, with his massive — close on 1300 pages — and long-anticipated novel Jerusalem due for release in September I thought that it was time for a look back at his only other actual 'real' novel,  Voice of the Fire, first published in 1996.
_______________________
"A-hind of hill, ways off to sun-set down, is sky come like as fire, and walk I up In way of this, all hard of breath, where is grass colding on I's feet and wetting they."
So starts Moore's study of his hometown of Northampton, where he still lives, spread in twelve sections over a period of 6,000 years.
And it is here, right at the very beginning of the book that many readers hit a stumbling block that they just won't surmount.  For with characteristic panache and self-confidence Moore launches into some fifty pages that are written not only in the invented language of a man from 4,000 BC, but of a mentally challenged man who only thinks in the present and is unable to differentiate between dream and reality… .  And Moore makes no concessions.  You open the book and you are in there cold.  There's something admirable in that complete faith in your ability.
If the reader shows just a little patience then they will find that they very quickly fall into the rhythms of this odd speech pattern and will have no difficulty following the sense of what is happening in Hob's Hog.  And it is an important section in that it introduces themes and motifs – fire, heads, black dogs, legs, a sometimes quirky and often brutal and ugly sexuality — that will continue down throughout the book and the centuries that it covers.
The Threadbare Gauze Between Worlds…
Indeed, each story is told in a very different, very distinctive voice:  there is the point of view of the totally amoral murderess of The Cremation Fields; the confused and ill stilt-birdman of In the Drownings; the pathos-filled narrative of Caius Sextus, the Little Roman who tells us of The Head of Diocletian.
In the latter this gently likeable man, with his profound belief in the necessity of the Roman Empire finds himself involved in a mystery, the solving of which will doom him.  Here is a dream of Rome that points up that the past is always with us whilst resonating with our own age of cyber-money.
Throughout, Moore plays around – especially in November Saints – -with a fluctuating sense of Time that is reminiscent of the Dr. Manhattan issue of Watchmen.
If it is happy endings you are looking for, then pass over Voice of the Fire – it's not for you.  What you will find is an urge to discover how many of these characters existed – and that little bit of research in itself will lead you down some fascinating historical byways.
We get a very bleak suggestion as to the origins of the Knight Templars; see the inexplicable vanishing of a primitive settlement in its baffling entirety; witness the burning of the last witches.
And bringing everything into the present, the false voices are dispensed with, leaving the lengthy final section to be told by Alan Moore himself.
And he has some damned peculiar ideas about his hometown, although readers of his difficult From Hell will get a jolt of recognition.   As in that grim tale, Northampton appears to be at the centre of a vortex of savagery:
"These sudden violent surges, tidal movements in Northampton's undermind, that blossom into gory actuality at the least provocation, hidden forces that exist beneath the surface, underneath the paved veneer of waking thought and rationality.  The town is like a mind expressed in concrete, its subconscious buried deep in lower reaches where the fears and dreams accumulate.  This underworld is literal, though occult:  webs of tunnels lace the earth below the settlement , burrows that wind back to its earliest days.  The major churches are believed to be connected in this way, with rumours of a passage running underneath the river to the abbey out at Delapré.
"Though glimpsed in living memory, with bricked off entrances in childhood cellars, this pellucid subterranean domain is now consigned to legend, with the council issuing denials that such catacombs exist.  Once more, the slippage between fact and folklore:  a vital, hidden strata of the country's psyche is suppressed, refused.
"The eagerness of the authorities to edit out this secret subtext from the county's narrative is suspect, and unduly purposeful:  the crypt beneath De Senlis' round church of the Holy Sepulchre that represents the tomb of Jesus at Gethsemane is known to exist, yet has no entrance and has not been seen since the foundation, centuries ago.  When laborers in nearby Church Street broke through their trench wall into a draughty space beyond, it was beyond doubt that they'd chanced on the forgotten crypt.  The rector, feverishly excited by this prospect, hurried down to Church Street the next morning to discover that a council work gang had been called out overnight to concrete off the opening."
Moore may at this stage be one of Northampton's more famous sons but something tells me that the local tourist board won't be using Voice of the Fire to promote the town.
And what on earth are we to make of the author's drugged-out hallucinations at the end?  What did he really see as he stared out over his vomit-covered beard?
This is a powerful and major work from a powerful and major talent.  Twenty years on from its first publication it has whetted my appetite for Jerusalem.
_______________________
My edition of Voice of the Fire is a thing of beauty, with 12 gorgeous and sometimes disturbing full colour plates and a frontispiece by José Villarrubia.  It also contains a completely pointless introduction by Neil Gaiman.
It is published by Top Shelf Productions.