A Quiet Place
(2018)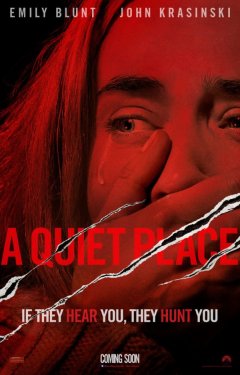 I'm going to go out on a limb here and make a prediction:  by the time December 31st rolls around, John Krasinski's A Quiet Place will be on the Top Five lists of a hell of a lot of film fans.
And not just horror fans, either; because this is a piece of pure cinema and a masterclass in taut, tense filmmaking.
What?  You think that you're not the type of person who could sit through a movie that stars only two adults and two children; and which tells its story almost completely through long silences and subtitled sign language?
Think again; because you won't move from your seat during this tight hour-and-a-half.
Of course, it's not really silent at all.  Seldom have I been made so appreciative of the talents of sound engineers.  Every hushed footfall, every drop of falling water damned near takes on characteristics all of their own.  In fact, this film makes you realise just how much you hear without actually being aware that you are hearing anything at all.
In the stunning, what-the-hell-did-I-just see prologue, we are into Day 89 of an unspecified disaster that has left the planet almost devoid of human life.  Then, after the single title card we find ourselves over a year later, living with Lee and Evelyn (played by Krasinski and real-life wife Emily Blunt), two unshowy survivalists who are the parents of a deaf daughter Regan (Millicent Simmonds) and a hearing son Marcus (Noah Jupe).
Screenwriters Bryan Woods, Scott Beck and Krasinski, show us with sparse economy that whilst there are only small enclaves of humanity left, the survivors have necessarily adapted to existing in a world where they dare not make the slightest sound.  For anything at all will bring them to the attention of barely glimpsed nightmare-creatures that kill with appalling suddenness and utter remorselessness.
Lee is a resourceful man and has set up a complex system around his isolated home that is designed to keep them as safe as they can be from the horrors; but when we notice that Evelyn is pregnant we find ourselves wondering how on earth they can bring a screaming child into this world without the obvious consequences.
We really learn to care about this family.  And we suffer through every moment with them as they try to make this unnatural life as normal for their kids as they can.  Evelyn schools them and Lee come up with small but essential little things to help them to survive – right down to something as deceptively simple as marking the floor so that Millicent can navigate around without inadvertently steeping on a creaking floorboard.  Yes, these creatures are that sensitive to the slightest sound.
I can't begin to tell you how clever this film is and want to make sure not to give away the slightest plot detail.  So I'll just say that within this tight narrative framework we still manage to get a beautiful story of family love; grief; loss; and of misplaced guilt.
The temptation must have been there to do the film entirely without a musical soundtrack, but Marco Beltrami's score works perfectly, counterpointing and occasionally commenting on what we are seeing on the screen.  Add great cinematography from Charlotte Bruus Christensen and editing by Christopher Tellefson, not to mention those anonymous but brilliant sound engineers and you have a damned near perfect film.
Forget all that guff about last year's overrated Get Out.
A Quiet Place is the real deal.  Don't miss it.