Providence
Act 2
"There's no gettin' out.  Where I'm from, everything's like me."
— Brown Jenkin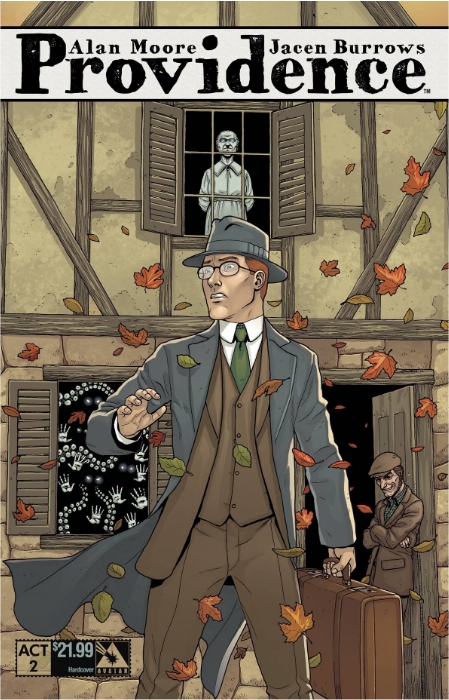 Seamus, down at Galway's excellent Sub-City Comics doesn't overly care for Alan Moore.  And the main reason appears to be Moore's many depictions of rape in his work.  The writer has explained his reasons for that, but Seamus isn't buying it.
So when I was finished reading Providence Act 1 I was happy to let him know that not only was this Moore's best comic-book work in years, but that it stayed away from that particular horror of our miserable, woe begotten race – rape.
I should have waited until I'd read Act 2, because this one contains one of the most twisted and disturbing acts of sexual assault you could ever hope not to encounter.  Seamus will find grist for the mill here, I'm afraid.
Yet I repeat my contention that this is an outstanding work and absolutely essential reading for the H.P. Lovecraft fan.
In this volume, which collects issue numbers five to eight, New York Herald journalist Robert Black continues his 1919 journey into the heart of occult America, with each encounter illustrating the scenes behind Lovecraft's major, minor and even more obscure works.  (The Very Old Folk is one example of the latter.)
The references to HPL and the decadent writers of the late 19th and 20th century are numerous, erudite and exhaustive, leaving me once more purely awe-struck at how much patience Alan Moore takes in his researches.
It is now becoming clearer that Black is at the centre of the Redeemer Prophecy and is indeed a 'Herald' of…well, of what is not yet known.  Are the events behind the stories that Lovecraft was to record in a slightly altered form gradually overlapping on to our 'reality'?
Black visits the town of Manchester, north of where lies the fictional Arkham; and here he is touched by not only the events of the meteor-hit in 1882 (The Colour out of Space) but also meets the analogues of Keziah Mason and Herbert West, Reanimator, amongst others; and — perhaps most crucially – he also encounters for the first time Asenath Waite from The Thing on the Doorstep.  And Manchester seems to exist in a bubble of 'nested time', meaning that you had better have your wits about you literally from the very first panel.
Artist Jacen Burrows' work is nothing less than extraordinary.  And in Manchester he shows, as he did with the 'Innsmouth look', that he can make subtle changes to human-seeming characters without making them ridiculously alien.  Here, it is with a depiction of Mason's familiar Brown Jenkin in human form; and wait until you get a load of how he portrays that creature nursing at the aged breast of his 'mother'.
Man, that is bad.
Moore really lets Burrows and their combined imaginations loose with Black's visit to Randolph Carter's Dreamlands.  In the splash panel I haven't been this engrossed with a simple carpet since film director Terence Davies's beautiful masterpiece The Long Day Closes back in 1992.
And again, that incredible attention to detail:  in one panel we see a key scene from The Statement of Randolph Carter, which leads to speculation on whether or not it took place in the 'real' world or in the Dreamlands – an argument that keeps HPL obsessives like Yours Truly…uh, awake at night.
I mentioned when reviewing Moore's monumental novel Jerusalem that he pays gentle homage to Winsor McCay's Little Nemo in Slumberland.  This was an outstanding example of early comics, running from 1905 into the 1920s but starting life as a page in the New York Herald, where Black was working until recently.  Just one example of the many, many layers that Moore effortlessly adds to.
Providence Act 2 is, if anything, even better than the first volume.  And that's saying something.  Most deliciously of all, it leads up to a meeting with Lovecraft himself, during his celebrated outing to hear a reading from his then-favourite author, Ireland's own Edward John Moreton Drax Plunkett, 18th Baron Dunsany.  It almost made me feel as if I had attended the event in person. (I wish!)
And Black's comments on meeting the Master seem to me spot on:
"It was funny; he seemed cold at first, as if I was addressing some severe and elderly disciplinarian, but when I mumbled in embarrassment how much I'd liked his story he appeared to light up with a fervor and enthusiasm that was almost juvenile.  He's genuinely one of the most curiously compelling men I've ever met, his speech and mannerisms laden with archaic affectations, as if he were an unusually clever schoolboy who was having fun pretending to be an old man."
You know something?  That's exactly how I've always imagined Lovecraft to be.  Moore just nails it for me.
And despite his travails, what I wouldn't give to have been Robert Black just for those five minutes.
And now Lovecraft has invited Black to visit him in Providence.  Roll on, Act 3.
Providence Act 2
by Alan Moore and Jacen Burrows
March 2017
Published by Avatar Press.